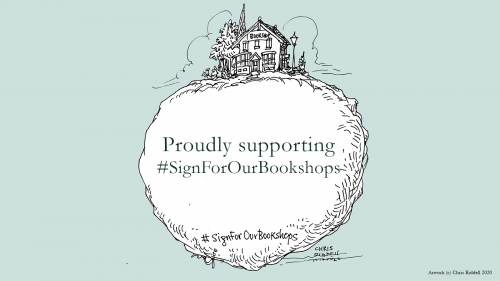 I'm so excited to collaborate with renowned British author Holly Bourne and more than 200 other writers in a national campaign to support bookshops throughout lockdown – #SignForOurBookshops. During the last lockdown, bookshops had to work so hard just to remain operational – taking orders online, or over the phone. They now face a second lockdown in the build-up to Christmas, their busiest sales period. 
#SignForOurBookshops is a national show of support from UK authors, urging people to keep buying through bookshops by offering exclusive signed postcards/bookplates to stores and customers. Over 200 authors are taking part so far, including Matt Haig, Dolly Alderton, Malorie Blackman, Michael Rosen, David Nicholls and so many more. 
What am I pledging?
If you want a signed Renae Lucas-Hall book, here's what I'm currently pledging as part of this campaign:
I will send out signed, personalised postcards with an image of one of my books, Tokyo Hearts or Tokyo Tales, to 50 people who buy one of my books through a bookshop in the UK during lockdown.
I will send out signed postcards to 10 bookshops in the UK.
I'm offering this on a first-come-first-serve basis.
If you are interested in the above, please email me on [email protected]
Customers, please do not buy the book first! Send me an email first to reserve one, so I don't overcommit to numbers. I will then email back to let you know if you've got a spot, then you can buy and send me proof-of-purchase, and I can make up your personalised postcard/bookplate and pop it in the post for you.
How can I buy exclusive #SignForOurBookshops Books by other authors?
Check out the hashtag on Twitter and see which other authors are involved, and how you can buy their signed copies. Some authors are sending out personalised notes to any customer who gives them proof-of-purchase from a bookshop, where others have nominated their favourite bookshops and will be sending them signed postcards and bookplates. There are so many exciting books up for grabs by amazing authors – including bestselling crime writers, children's authors, romance authors, and non-fiction.
Please do get online, and start supporting bookshops. They're amazing pillars of our community and I'm sure you'll agree we want them to still be open when this pandemic has passed.
Is this UK only?
I'm afraid this is currently only a UK campaign. Although Irish authors are pledging for Irish customers too, so check out the hashtag to see who's involved.