Buy Tokyo Dreams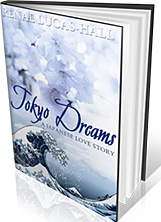 A Little Intro
I'm currently working on the sequel to TOKYO HEARTS and the title of this book is TOKYO DREAMS. As you'd expect, the story begins in the middle of the cherry blossom season in Japan.
Takashi and his charming wife Haruka are living together in their luxurious home in Shirogane, but they're finding it difficult to adjust to their newfound wealth. Yuriko is blindly in love with Kenji but her happiness is thwarted by their tumultuous relationship and her violent brother. Masaya asks his girlfriend Momo-chan to marry him but he doesn't get the reaction he anticipated and Akira has returned from the United States with a beautiful blonde who stirs up trouble for the whole group.
I'm really enjoying the writing process for TOKYO DREAMS but I need to do more research in Japan before I can finish this book and send it to the publisher. Therefore, I'll be spending just over 2 weeks in Japan in 2017. I can't wait to share TOKYO DREAMS with you and I really hope you'll love this sequel just as much as you enjoyed TOKYO HEARTS.
Tokyo Dreams will be available to buy at a later date. Please check this page again in the future for updates.
[testimonial_rotator id=2486]