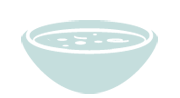 Eating Out
TEISHOKU – SET MEALS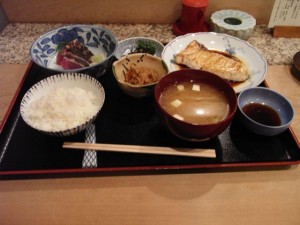 A lot of excellent restaurants in Japan offer very affordable set lunches so look out for these when you want an exquisite and filling meal but you don't want to pay the high prices often associated with haute cuisine served in Japan. You could easily pay above ¥10,000 per person in the evening for dinner at the many high-class restaurants scattered throughout Tokyo, but many restaurants with extremely good reputations also offer set lunches at a fraction of that cost at midday. For example, a traditional Japanese restaurant called Sankame, which serves Kyoto style dishes in Tokyo and boasts a Michelin Guide one star, charges ¥10,000 – ¥15,000 for dinner but only ¥1,000 to ¥2,000 for a set lunch (pictured above) between 12 and 2 p.m. and it's located in Ginza – an area renowned for its pricey real estate. Read a review of the Sankame restaurant in English on SunnyPages.jp.
Also be on the lookout for chain restaurants that serve teishoku (budget-friendly set meals). They are usually very cheap and the food is delicious. You'll often find a menu on the door or window of the restaurant showing you what you can expect to eat inside. Their menus also have lots of photos of the food you can order, making eating out a breeze even if you don't speak Japanese. My husband and I enjoyed this tempura teishoku meal in Jimbocho at Tendon Tenya for less than ¥1,000 each. They have more than 150 restaurants nationwide, proving this is a popular restaurant that serves quality tempura.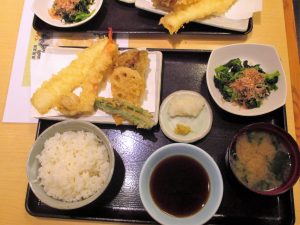 HOTEL RESTAURANTS & JAPANESE SOUL FOOD
If you're staying at one of the major hotels, the restaurants at the base of your hotel are a great place to eat as they always maintain a very high standard and offer lots of variety. Local workers often come to these restaurants for business or as a treat after work. If you venture out of the hotel, you'll find the back lanes in central Tokyo full of small establishments offering delights such as yakitori (chicken on skewers), ramen noodles, curry and sushi etc. Don't be afraid to go in if you don't speak Japanese. The food is often made in front of you and you can always point at what you'd like and make yourself understood. If you head to JR Shinjuku Station you'll find lots of decent cafes and mini-restaurants under the platforms. Whether you're craving a chocolate sundae, a caramel latte, a sandwich or a quick Japanese meal, the food served here is cheap and caters for everyone.
EATERIES IN SHIBUYA
If you've just arrived in Tokyo and you're not sure where to go, head for Shibuya where you'll find lots of small eateries that serve Japanese and Western style dishes near the station. Restaurants and cafés throughout Japan often place plastic food in their windows that replicate the meals they have on offer. You'll be surprised at how authentic they look compared with the actual meal. This makes it very easy for those who don't speak Japanese to order exactly what they want.
SHABU-SHABU AND SUKIYAKI
One of my favourite Japanese dishes is most definitely shabu-shabu  (a hot pot dish with thinly sliced meat and an assortment of vegetables that you cook in boiling water and then dip into a ponsu or a goma (sesame) sauce. You absolutely have to try this dish if you're in Japan, and if you can afford it then you should opt for the famous kobe beef version. One of the best restaurants in Tokyo to try this delicious meal is called Asakusa Imahan. This restaurant opened in Asakusa in 1895 and the current owner is a direct predecessor of the original owner who started the business over one hundred years ago. By the way, the word shabu-shabu is derived from the Japanese onomatopoeia for 'swish-swish' or the noise you make when you move the food around in the dish with chop-sticks. Asakusa Imahan also serves the sweeter and less savoury sukiyaki.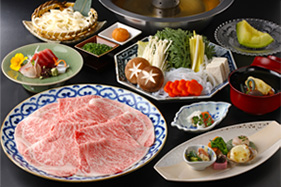 POPULAR THEMED RESTAURANTS
Recently, lots of themed restaurants with cute/kawaii or fantasy elements have opened up all over Tokyo. The food is not generally the best quality and you're really paying for the experience, but why not visit one of these restaurants for a fun night out with your friends? Brian Ashcraft has compiled a comprehensive list of themed restaurants on the Kotaku website, including a prison-style restaurant, an aqua bar, a maid café, a ninja restaurant, a model train café, a restaurant where you can catch your own fish, a vampire café, a Thunderbirds café, a robot restaurant, a planetarium, and an Alice in Wonderland themed restaurant.
If you're a fan of Quentin Tarantino, make sure you book a table at the Gonpachi restaurant in Roppongi aka The Kill Bill restaurant – it's straight from the scene 'The Bride Vs. the Crazy 88's'.
On the other end of the scale, if you're a kawaii fanatic then you should visit the Kawaii Monster Café in Harajuku (pictured below), a highly creative concept designed by Diamond Dining and the very talented Art Director Sebastian Masuda.
MOS BURGER
If you're craving fast food, you'll be pleased to know you can find McDonalds, KFC and Subway just about anywhere in Japan. However, I strongly recommend the burgers at MOS Burger (pictured below) – their MOS Teriyaki Chicken Burger is delicious.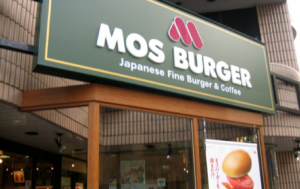 KAISEKI RYORI
In my novel Tokyo Hearts Jun and Haruka eat out at a kaiseki ryori restaurant. This particular style of dining is based on values such as harmony, appreciation and balance. Thus, the presentation of the dishes is equally as important as the taste. This type of dining is best exemplified at ryokans (Japanese inns) however there are many restaurants in Tokyo that offer this multi-course formal cuisine. I suggest you try Ginza KOJYU located in the Carioca Building 4F at 5-4-8 Ginza, Chuo-ku, Tokyo, 104-0061. They have an excellent reputation for kaiseki ryori, however lunch costs ¥21,000 and the cost of dinner starts at ¥26,250. I've been lucky enough to try this style of dining and I must say it is the ultimate Japanese experience.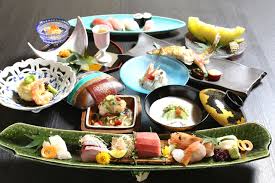 ALL-YOU-CAN-EAT WAGYU BEEF IN GINZA
If you're in Ginza, one of the most expensive shopping districts in the world, why don't you try Wagyu beef? This highly marbled beef is famous for being extremely tender. A lot of people say it's the best steak they've ever eaten because it melts in your mouth and the intense flavour is unbeatable. I recommend the all-you-can-eat restaurant called Ginza Steak (銀座のステーキ ), located near the Ginza exit of Shinbashi Station. Lunch starts at ¥5,800, the premium dinner is ¥9,800, and if you add an all-you-can-drink option it costs ¥12,000. You have two hours to eat as much as you want but last orders are taken after 75 minutes.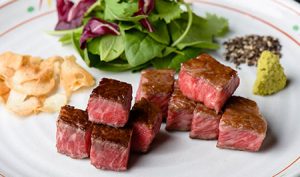 UMI GOHAN IN GINZA
It's still possible to find cheap but excellent restaurants down the back streets of Ginza, behind the department stores and luxury boutiques.  If you've read Tokyo Hearts you'll know I mentioned Umi Gohan in the book. The price of a meal here was only about ¥1,500 but the food was delicious and obviously affordable. Umi Gohan has now closed but it was located near the corner of Mihara-dori and Azuma-dori. When you're in Tokyo, spend some time looking for your own hidden gem and send me the details with pictures if possible. I love finding out about new places to eat in Tokyo. Please help me to spread the word and together we can share this information with our followers on social media.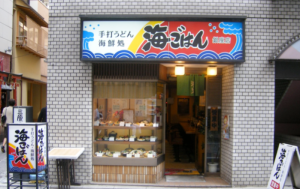 ……………………….
Renae Lucas-Hall is a novelist and writer of Japan-related fiction and non-fiction and the bestselling author of TOKYO HEARTS: A JAPANESE LOVE STORY and TOKYO TALES: A COLLECTION OF JAPANESE SHORT STORIES. Visit the HOMEPAGE to find out more about Renae and her books.