Spencer House Gallery, founded by Chris Woodcock, serves as a distinguished cultural hub that highlights the works of exceptionally talented regional British artists in the UK. This is achieved through a dynamic programme of exhibitions, demonstrations, workshops, talks and events, embodying the essence of the artists featured and their creativity.
The gallery is located in Tetbury in the heart of the Cotswolds. You can view, buy and commission at the gallery not just by appointment or via an online enquiry – you can also visit each exhibition when it's open. Shows and opening times are on the website, in the window and on Instagram. Typically, when a show is live, the gallery is open Thursday to Sunday – though this can be more sporadic between official show dates. All of the artworks are available framed and unframed.
Spencer House Gallery hosts and supports a growing community of artists and art lovers who are driven to discover and share art from the regions and demonstrate that traditional skills and creative talents still thrive, in many media. Artists range from painters and printers to potters, sculptors and textile artists. The work is distinctive, intelligent and genuinely inspirational. It appeals to enthusiastic, inquisitive art lovers and to buyers who appreciate genuine accomplishment and beauty.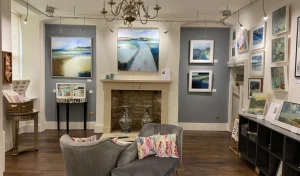 In this blog post, we'll explore the works of three artists who are currently showcasing their art at Spencer House Gallery. Alexandra Buckle and Jo McChesney are inspired by Japanese printing techniques, Japanese culture, and the seasons in Japan and Steven Hubbard uses Japanese Kozu-shi paper to bring his creations to life.

 ALEXANDRA BUCKLE
Alexandra Buckle, hailing from Bicester in Oxfordshire, is an expert reduction linocut printmaker. Her technique closely resembles that used in Japanese woodblock printing. Alexandra's method, however, is to carve her images onto a lino or vinyl block using gouges and chisels. The remaining surface is then inked up and an impression is made. Alexandra's technique is both unforgiving and complex, as she cuts and prints from the same block to gradually build up an image. Any mistakes made during the cutting process, as the block is gradually reduced, cannot be rectified, affecting both color and cut. Alexandra manages an extraordinarily painterly effect in her linocut prints. She's a teacher held in high regard and considered to be highly skilful in her field. Alexandra is a regular contributor to renowned galleries and print shows like the Bankside Gallery, the Woolwich Contemporary Print Fair, the Society of Women Artists Annual Exhibition, the Mall Galleries, the Great Print Exhibition, the Oxford Art Society Exhibition, and many more.
In this short video, Alexandra shows you how she converts a single colour lino block into a multi-block design.


Alexandra's artworks below were inspired by a trip to Japan in September 2019. Her initial interest in travelling to Japan was triggered by a print Alexandra created in 2010, titled "Gold Pavilion". This print, based on a friend's photo of the temple, was chosen to be exhibited in the Royal Academy Summer Exhibition in 2011.
As you can see in these magnificent linocut prints, Alexandra has perfectly captured "Kinkaku-ji" (Golden Pavilion), "Ginkaku-ji" (Silver Pavilion), and the Ginkaku-ji sand garden in Kyoto in her Japanese Vistas collection. Her Japanese Tea Gardens collection is also splendid. Alexandra produces VERY limited editions of each print – typically just 10. Her artworks are on display until the end of August so please contact the gallery as soon as possible if you'd like to make a purchase. All prices are for framed artwork. Unframed artwork can be purchased at a lower price.
This slideshow requires JavaScript.
This slideshow requires JavaScript.

JO McCHESNEY
Jo McChesney specialised in print after graduating from Bath Academy of Art in the UK in 1985. Jo travelled to Kyoto to study traditional woodblock printmaking and combines her knowledge of traditional Japanese printing techniques with a distinctly Western approach to image making.
Seasonal change in the natural world is a major source of inspiration for Jo. She likes to focus on transient and fleeting moments in time, water, and air, as well as light and shadows in woodlands when she creates her artworks.
Jo's woodcuts are hand carved from Japanese plywood, using knives and gouges. After inking up, the image is hand burnished and layered into a final woodcut onto Japanese Mulberry paper. Each colour requires a separate hand-carved plate.
The hanko or little red stamp in the bottom corner of each print provides the perfect finishing touch to these prints on Japanese paper. This Japanese-style seal is something Jo learned in Japan when she was studying Japanese woodcarving. It's carved out of marble and stamped onto a traditional red ink pad and sits next to her signature. The one she created in Japan was with Kanji (Japanese ideograms) so she carved another with her own initials back in the UK. It is a tradition in Japan for all artists to have their own hanko.
This slideshow requires JavaScript.
STEVEN HUBBARD
Born in London, Steven Hubbard pursued his studies at Gloucestershire College of Art and Design. He boasts a substantial exhibition history within commercial galleries and, more recently, at the Royal Academy Summer Exhibition. Steven's artworks below use Japanese kozu-shi paper. This is a style of paper that absorbs and displays, in his case, the hand-printed (rather than press-printed) ink to the best effect. In Japan, Kozu-shi paper is commonly used for traditional Japanese interior doors, such as shoji (sliding blind doors) and fusuma (cupboard doors). Kozu-shi paper is also ideally suited as printing paper for all sorts of hand printing processes such as woodcut, wood engraving, linoleum printing, etchings (drypoint and line etchings) as well as bookplates.
Throughout his career, Hubbard has delved into a diverse range of artistic disciplines. His journey began with watercolor still lifes, which eventually paved the way for a successful venture into portrait artistry. Notably, his achievements include being shortlisted for the National Portrait Gallery BP Award, as well as receiving recognition from the Royal Society of Portrait Painters' annual exhibition. These accolades led to a series of notable commissions, including portraits for the esteemed writer, NPG trustee, and Cambridge scholar Sir John Plumb (1911-2001).
These prints are based on his paintings of everyday objects, such as oil cans, tools, and telephones – he calls them 'things with character, practical things'. His beautiful and precise technique is deliberately reminiscent of the Grovesnor School, lending it a vintage, inter-War-years charm and nostalgia. It also makes full use of colour show-through and thin Japanese papers, where you can change the appearance of the entire work by adding a backing colour when framing.
This slideshow requires JavaScript.

VISITING SPENCER HOUSE GALLERY IN TETBURY
Just 25 miles from Bath, Spencer House Gallery is easily accessible from London. This creative space is part of  Tetbury's growing reputation as a centre of excellence for the arts, complementing the town's existing fame as a celebrated antiques nucleus.
This gallery provides its artists with a platform to air their ideas, values, and perspectives on life. In fact, you'll notice some recurring themes in their carefully curated exhibits and artworks, 'sustainability' and 'equality' among them.
For buyers, pricing is fair and accessible. Artworks can be purchased during regular exhibitions or, outside of exhibition time, viewed on their website and/or by appointment.
Spencer House Gallery is in a wonderful location. Tetbury is the second largest town in the Cotswolds, and it was an important market for Cotswold wool and yarn during the Middle Ages. Today, it's better known for its fine buildings, boutique shops, antiques, and contemporary art, great food, and its royal connections.
Nailsworth, Stroud, Malmesbury, and Cirencester are within easy driving distance and the gallery is very close to Westonbirt, the National Arboretum, and Highgrove House, the family home of HRH King Charles III and Queen Camilla, with its magical gardens.
The gallery is in an Area of Outstanding Natural Beauty (AONB) and there are many wonderful walks directly on the front door, both around the sights of the town and out into the countryside.
Founder and director, Chris Woodcock, looks forward to meeting you at Spencer House Gallery in Tetbury.