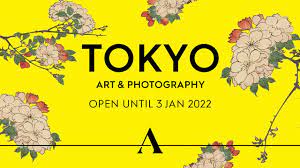 Living in the UK and missing Japan? An afternoon at the Ashmolean Museum at Oxford University should fill that void. When you enter the Tokyo: Art and Photography Exhibition, a bright pink panel of cherry blossoms greets you, stretching along the floor and up the walls, creating the perfect Instagram backdrop.
Step inside and Japanese graphic art, woodblock prints, samurai armour and swords, as well as videos and contemporary photographs will stimulate your senses as you travel through time from the 17th century to the present.
Some works are elegant, capturing Tokyo's traditions with style and grace. Others are fun and frivolous like this work below photographed by Shinoyama Kishin featuring Chim↑Pom. The title is Love is Over (2014). Guests from the wedding of group member Ellie march into Tokyo's business district, climb on top of Robert Indiana's LOVE sculpture, and start a demonstration. Is this art, love, politics, private or public? The message is ambiguous.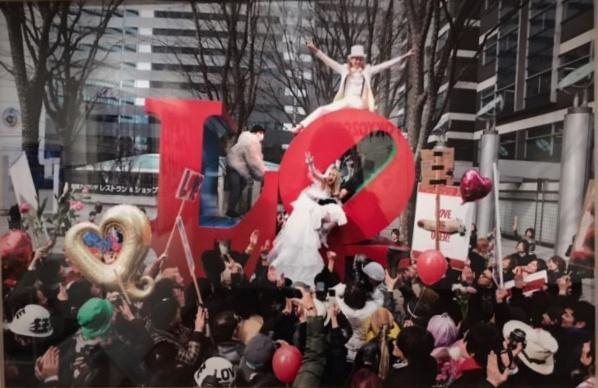 I can only show you a selection of the works on display at this exhibition but there is so much more to appreciate so please visit if you can. I was really looking forward to seeing the woodblock prints by Utagawa Hiroshige so I was delighted to see his ukiyo-e as soon as I entered and I'm thrilled to share them with you here.
Let me begin with Suruga Street featuring Mitsukoshi in 1856 on the left-hand side. This is Japan's first and largest department store. It was originally called the Echigo-ya textile shop (越後屋). Suruga Street is renowned for its excellent view of Mount Fuji which is located 80 kilometres away. Hiroshige uses Western linear perspective to portray this shopping scene.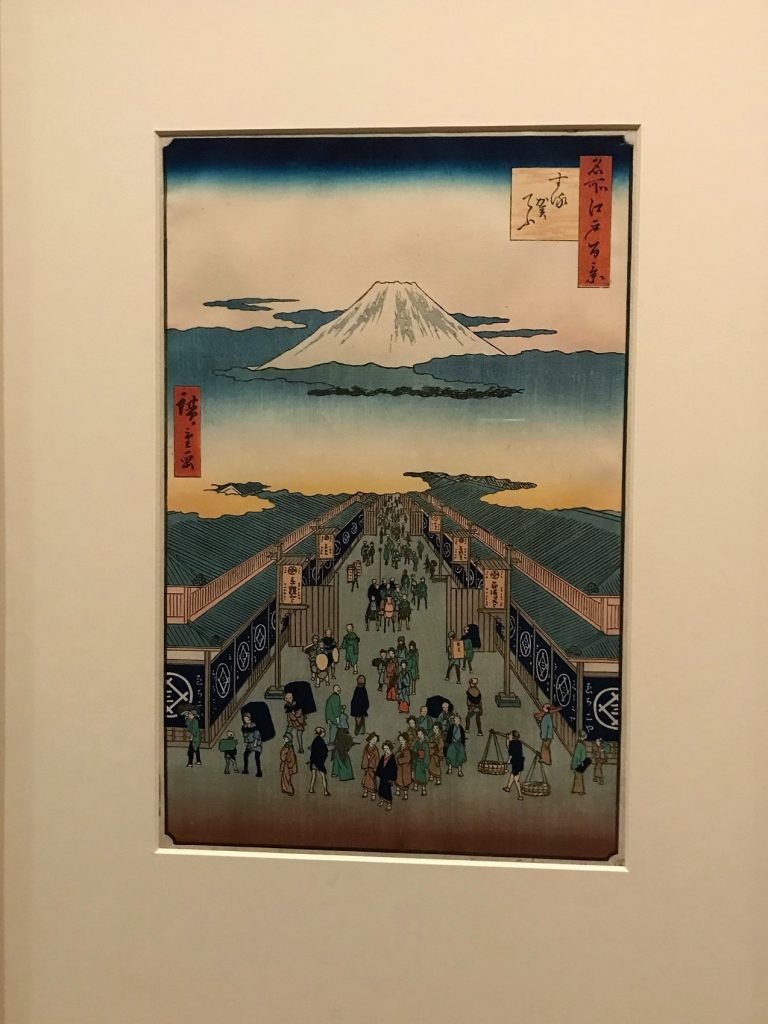 Another, just as popular, woodblock print by Hiroshige is next in the display. His Sudden Shower at Ohashi Bridge, Atake, 1857, is instantly recognizable thanks to the clever criss-crossing of grey lines seemingly scratching the scene as the townsfolk pull down their wickerwork hats to shield themselves from the pouring rain. Vincent van Gogh was so impressed by this print he copied it in oils.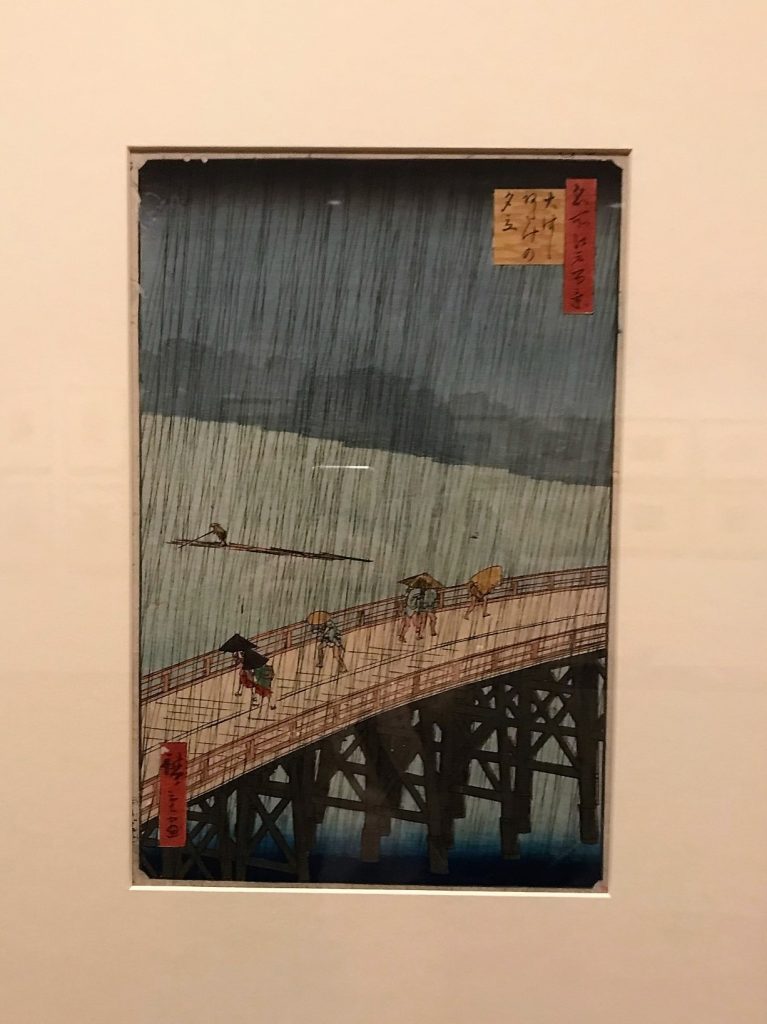 If it's beauty and drama that attracts you to art, you'll fall in love with Hiroshige's third woodblock print, The Drum Bridge at Yuhi Hill in Meguro. The glistening snow and snowflakes on the moonlit stone bridge are actually unprinted areas of paper that stand out thanks to the dark night and the cobalt blue river.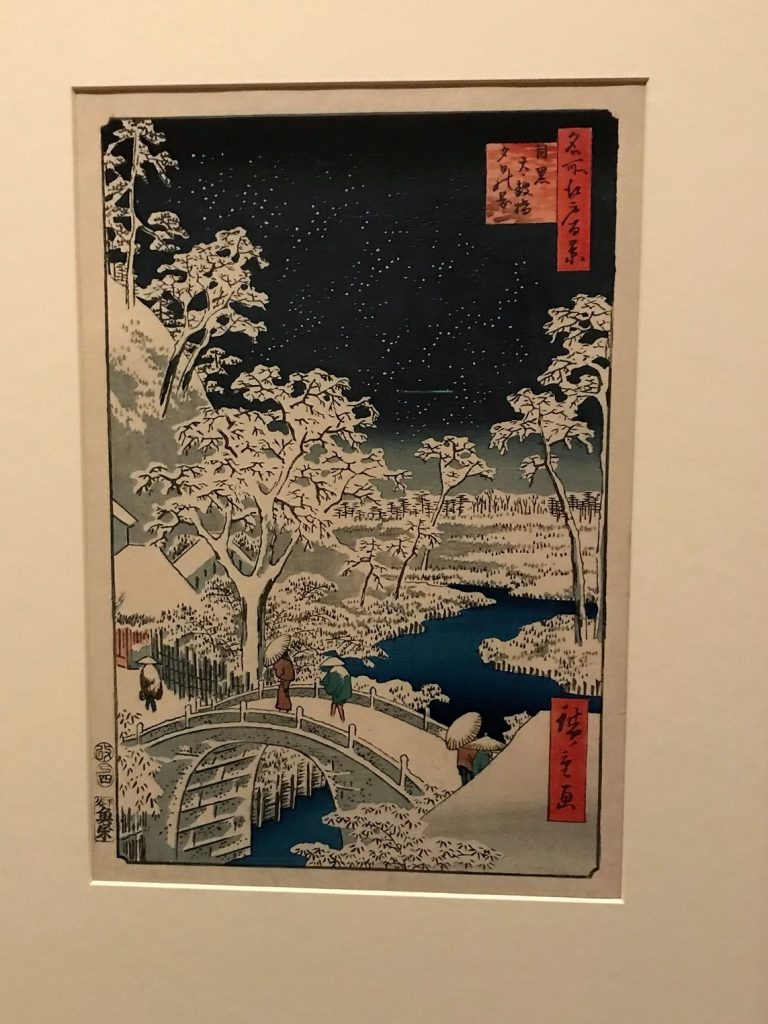 This stunning painting below in the style of the Toda School is by an anonymous painter but it's a welcome and very attractive addition to the exhibition. This view of Edo portrays the Shogun's castle at the back and the Sumida River in the middle. Samurai on horseback and simple folk wander around the city. The gold clouds are painted using traditional methods. Positioned at the top and the bottom they draw your eye towards the centre.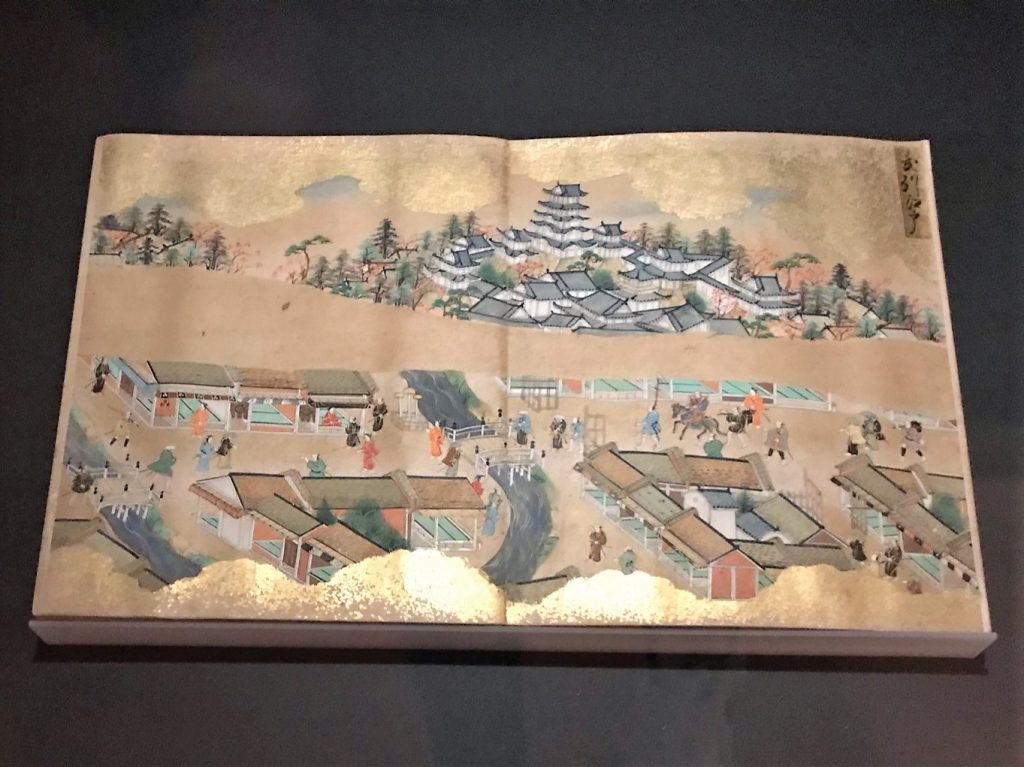 Fast forward to 1951 and Hayashi Tadahiko's photographs provide real and hard-hitting documentation of Tokyo's poverty in the post-war years. New housing developments, shops and entertainment venues crop up all over the city as Tokyoites try to forget the destruction of the past decade.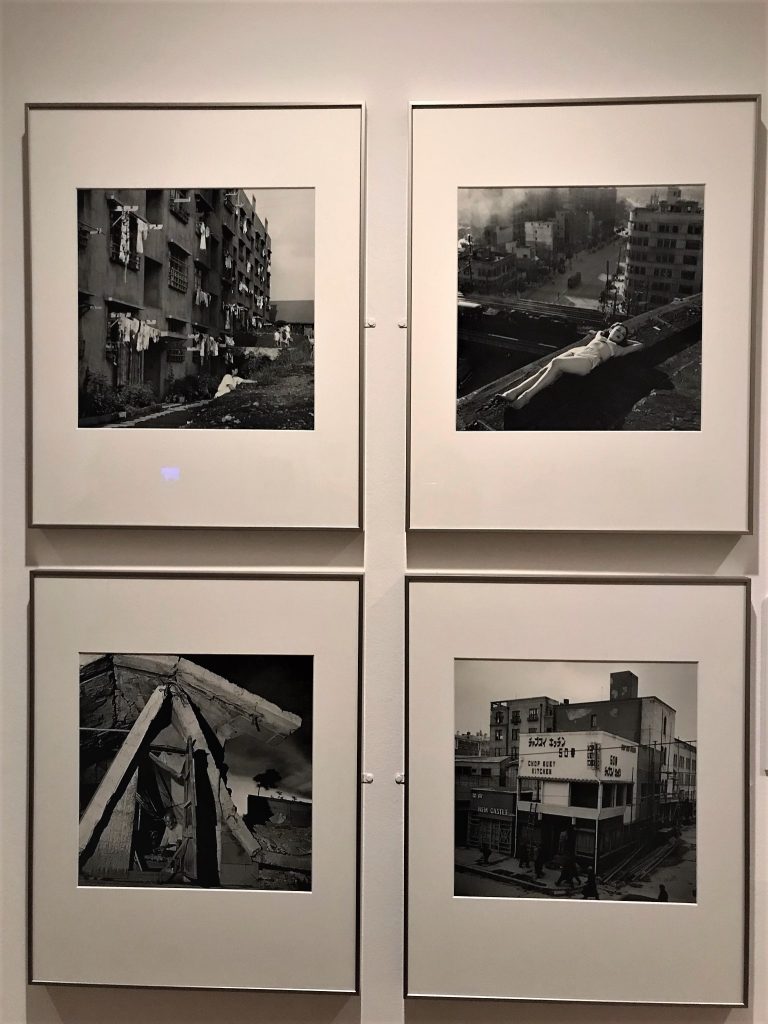 Turn the corner in the exhibition and you're thrown back to the Edo period in a room dedicated to People. We're reminded that Edo (old name for Tokyo) was populated with more than a million people in the 18th century and the artisans and merchants were dominated by warriors. This was a time for peace and the samurai were very appreciative of the arts. Their costumes represented aggression but their hearts were brimming with culture.
So many artists, writers and poets have expounded on the attractiveness and virtues of various Japanese women over the centuries. In Ito Shinsui's Fireworks from his Second Collection of Modern Beauties a Japanese lady in kimono from the 1930s sits in a Western pose admiring the fireworks. Effortlessly elegant and relaxed, she enjoys a pastime most Japanese people relish. Like cherry blossoms, this summer tradition is a reminder of the fleeting nature of life.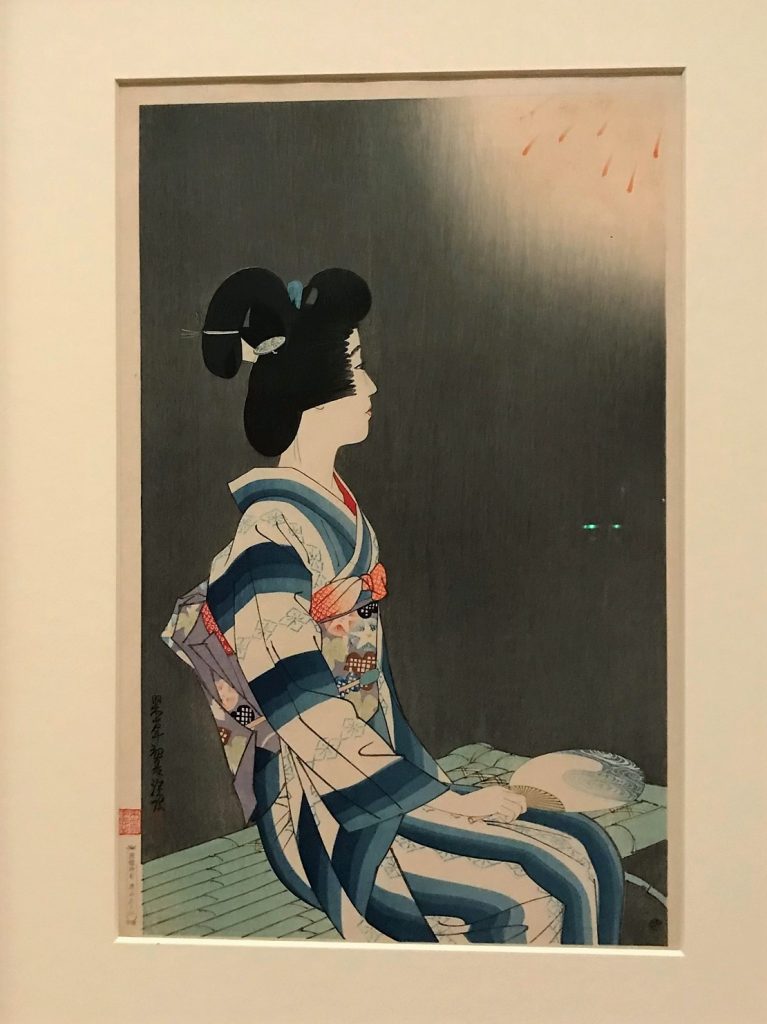 Death Multi and Hollow Blue (both 2015) are by Murakami Takashi, one of the most famous pop artists in the world today. I certainly didn't expect to see these two artistic endeavours and their morbid persuasion. His works are usually so exuberant, full of a certain joie de vivre. This sudden change of heart is representative of the rioters who spray paint the alleys and footpaths of Tokyo. Murakami says he has been influenced by natural catastrophes like the 2011 Tohoku earthquake and tsunami and he has used the words "Death" and "Hollow" to symbolize harshness and emptiness and to remind us of human vulnerability.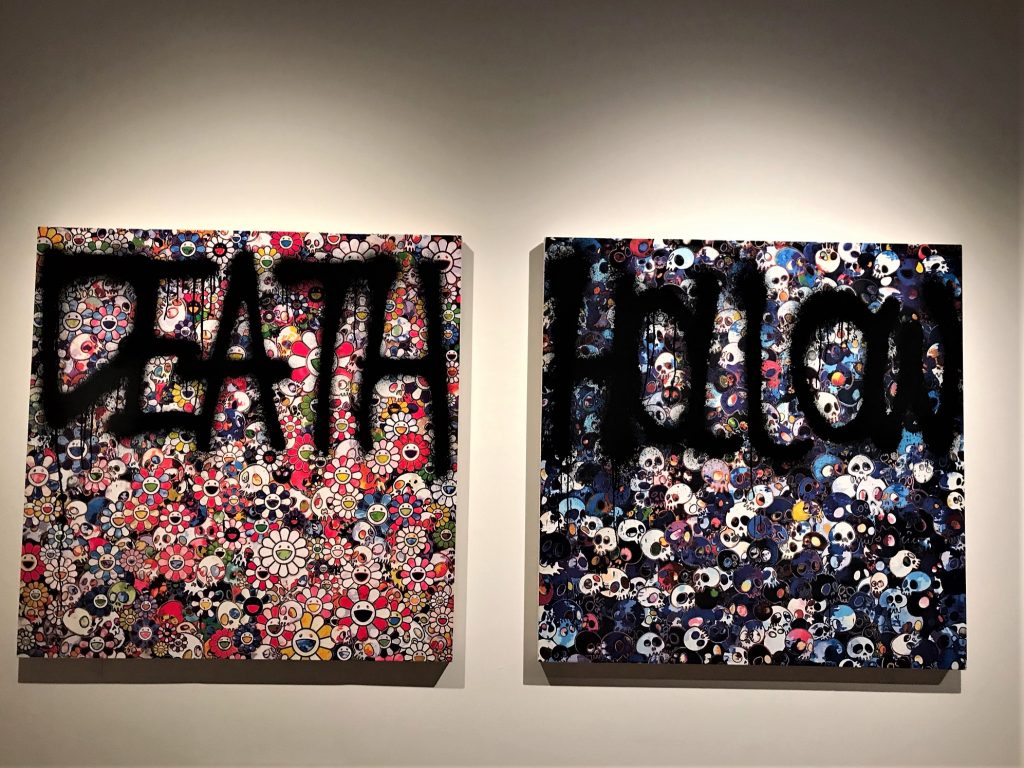 Legendary photographer Moriyama Daido shares his slideshow and wallpaper at the end of the exhibition. Each grainy image he has taken over the last 50 years makes you stop and contemplate its meaning while you admire its appeal. He's creative and dynamic as he provides thought-provoking visions of Tokyo and the people who live there, showing us characters and providing sounds that make this metropolis so compelling. "I just try to take as many photographs as possible to record the time in which I have lived" – Moriyama Daido.
But wait there's more. Don't leave the Ashmolean without checking out the gift shop. You won't be disappointed. There's the official Tokyo Art and Photography book, postcards, Suruga Street key rings, Tokyo Station tote bags, Tokyo magnets, Japan 2022 calendars, Hokusai diaries, Japanese boxed pencil sets, Japanese calligraphy washi sets, origami gold and silver necklaces, Liam Wong's TO:KY:O art book, Nancy Singleton's Japan The Cookbook and much, much more.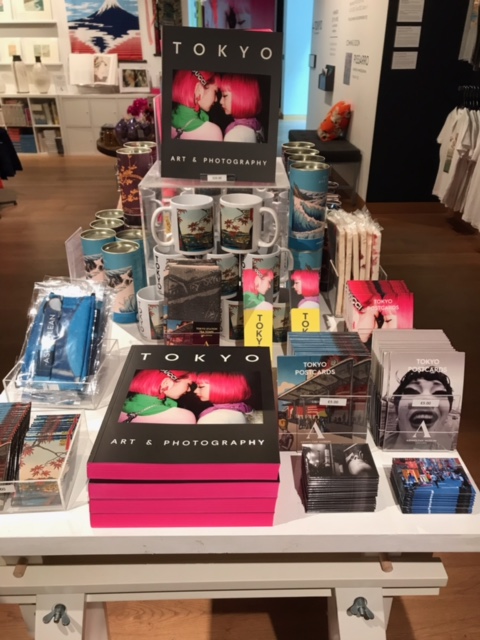 AND you can also buy a stunning Japanese woodblock print in the gift shop at a very reasonable price. . .