THIS COMPETITION IS NOW CLOSED. THE WINNER OF THE SHAKE SHACK VOUCHERS IS LOUISE BROWN (TWITTER HANDLE: @lottielouyellow).
THANK YOU FOR ENTERING AND PLEASE CONTINUE TO CONNECT WITH ME ON TWITTER @RenaeLucasHall
STAY TUNED FOR MORE COMPETITIONS AND GIVEAWAYS IN THE FUTURE.
As a BIG THANK YOU to all the lovely people in the United Kingdom who have shown their support and bought my books, I'm running a competition over the next seven days for one lucky person to win £20 worth of Shake Shack vouchers. Just send out a tweet on Twitter about the competition with a link to this page or retweet my tweets about the competition and follow me @RenaeLucasHall for your chance to win the vouchers. The winner will be chosen on Monday 11 July, 2016. The vouchers will be sent in the post (Royal Mail Signed For® 1st Class) and the winner should receive their prize before Friday 15 July. You must be living in the UK to enter the competition. The Shack Shack vouchers must be used before 31 December, 2016.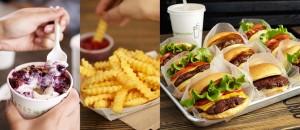 I write Japan-related fiction so I'm interested in anything to do with Japan, especially Tokyo. I first heard about Shake Shack opening in Meiji-Jingu Gaien in Japan on Twitter. I could see there was a lot of hype about just how delicious the burgers are at Shake Shack so I did a Google search and I was pleased to discover there are four locations in the UK (Covent Garden, New Oxford Street, Stratford, and Cardiff). Then a couple of weeks ago, I heard James Corden say in 73 Questions for Vogue on YouTube that he would choose a Shake Shack burger as his last meal on Earth!! So there you have it, everyone is loving Shake Shack burgers. If you want to find out just how good these burgers taste then enter my competition or visit their website to find a location near you. Shake Shack has sixty-six locations worldwide.
When we visited Shake Shake in London, we were amazed by how busy they were in Covent Garden. It looked like organised pandemonium. In fact, they had three seating areas and they were all chock-a-block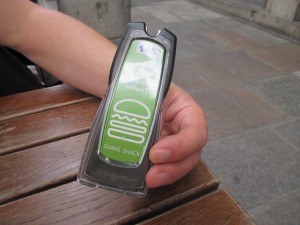 full of customers. There was even a long line of people waiting to order, so make sure you have some time to waste when you visit at peak times. We were given a buzzer that lets you know when your order is ready (my husband is holding this in the photo on the left) and after about 15 minutes we received our burgers, fries, drinks and concretes (frozen custard ice cream blended at high speeds with mix-ins). Despite the fact Shake Shack was incredibly busy, all the staff at Covent Garden were working extremely hard to make sure every customer was happy and satisfied.
I'd like to thank Kiki, the manager of Shake Shack in Covent Garden, for offering these vouchers for the competition. We also really appreciated Kiki's excellent customer service.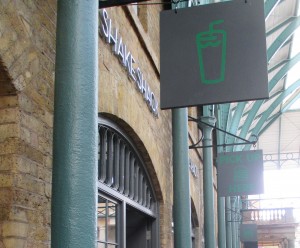 By the way, if you're interested in Japan-related fiction please "Like" my Cherry Blossom Stories page on Facebook.
Good luck in the competition. All you need to do is retweet on Twitter for a chance to win!