If you're thinking about living in Tokyo you're probably filled with excitement but at the same time you might be slightly apprehensive. That's how I felt just before I left Australia for my first long-term stay in Japan many years ago. I was lucky I'd already made quite a few strong connections thanks to a previous six-week homestay experience, but I knew that after my arrival in Tokyo I would have to find a job, somewhere to live and cope all by myself without any support from my family.
A lot of people send me messages on Twitter or via my website worried about whether they're going to be okay living in Tokyo. When I reply, I almost always offer reassurance and tell these people they are going to love the experience and they'll definitely have the time of their lives.
Below are six reasons why I believe Tokyo is a great place for expats:
1. YOU'LL FEEL VERY SAFE IN TOKYO
– Although Japan has had a rough ride since the 2011 Tohoku earthquake, tsunami and nuclear disaster, it was recently reported that the radiation levels in Tokyo are less than Paris and London.
– I've never had anything stolen from me in Japan. You could fall asleep on the train with your bag on your lap and it will most probably still be there when you wake up.
– Crime is at a very low level in Japan. In fact, I've never been harmed in Tokyo and I've never come across aggressive or passive-aggressive personalities in Japan. Japanese people are renowned for their politeness and I always received the upmost respect from Japanese people when I worked as an English teacher in Tokyo.
– Although I've experienced minor earthquakes in Japan, I've always been okay and I've never been injured during an earthquake. A lot of buildings in Japan are built to resist earthquakes and all I've ever felt is a lot of shaking and rattling but this didn't continue for very long.
2. YOU CAN EARN AND SAVE A LOT OF MONEY:
– The full-time rate for teaching English in Japan varies but the average salary is between ¥250,000 to ¥300,000 per month and even if you're paying for rent, utilities and food you'll still have lots of money left over at the end of the month for exploring other parts of Japan, shopping and going out.
3. THE SHOPPING IS JUST AS AMAZING FOR FOREIGNERS AS IT IS FOR JAPANESE PEOPLE:
– I love to shop and Tokyo offers some of the most diverse and exciting shopping experiences in the world for women and men alike. There are a great choice of local and international big brands in Ginza, cute and kawaii fashions in Harajuku, electronics, manga and anime goods in Akihabara, independent boutiques in Daikanyama and Shimokitazawa, shopping and entertainment in Odaiba, bookshops for avid readers in Jinbocho and over sixty vintage and antique shops in Nishi-Ogikubo. You can read my Shopping Guide to Tokyo for more information.
4. YOU'RE GOING TO LOVE ALL THE HEALTHY JAPANESE FOOD:
– I love Japanese food. It's healthy, delicious and satisfying. I'll also share a secret with all the girls reading this blog post: There's a good chance you're going to lose weight if you live in Japan. The rice dishes, sushi, noodles and light meat dishes are less calorific and a lot lighter on the stomach than the meat and potatoes Westerners typically serve up – this means you're almost certainly going to lose weight even without dieting!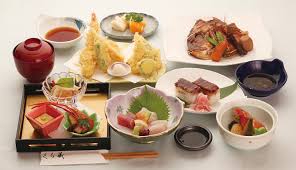 5. JAPANESE CULTURE IS CAPTIVATING AND EASY FOR FOREIGNERS TO APPRECIATE:
– The Japanese culture is beautiful, captivating and interesting. Even if you're from a Christian background, you'll still appreciate the Zen and Shinto temples and shrines, the beautiful landscapes and the traditional customs like ikebana and tea ceremony as well as the performing arts such as noh, kabuki and bunraku. Modern popular culture in Tokyo will certainly stimulate your senses and you'll see street fashion on a scale you've never seen before.
6. OMOTENASHI WILL BE YOUR REASON FOR WANTING TO STAY IN JAPAN:
– Omotenashi is a Japanese word that is difficult to translate into English but I truly believe it is omotenashi which makes Japan so special in just one word. You'll have to visit Japan to truly understand omotenashi but for me it describes the genuine sincerity you receive in Japan where your every need is foreseen, as well as the kindness and hospitality you'll surely receive from the Japanese people whether you're in Tokyo or any other part of Japan. Omotenashi is what makes Japan so wonderful and I think it would have to be the feelings evoked from omotenashi that stir up the desire within me to return to Japan again and again. I've been to Japan six times so far and I'm sure I'll return for at least another six visits. I would recommend everyone to experience Japanese omotenashi in their lifetime. It will live within you even after you've left Japan and I'm sure you'll want to return to Japan in the future just to recapture this special feeling.