When we came across the new WASO Japanese food delivery service online my husband Roy I were so keen to try it. WASO in London delivers Michelin star Japanese meals directly to your home and all their meals are at gourmet supermarket prices! Yes, you read that right! If you head to WASO's Facebook page you'll discover that Hideki Hiwatashi is the Executive Head Chef at WASO and he's also a Michelin star chef.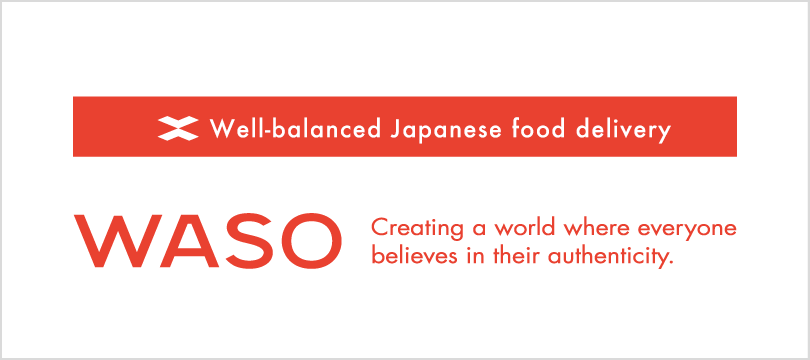 Chef Hiwatashi used to be the Executive Head Chef of Roan Kikunoi, a 2-star Michelin restaurant in Kyoto, and the Executive Head Chef of Sake No Hana in Mayfair, so I was expecting a lot when we received our Japanese dishes today via courier.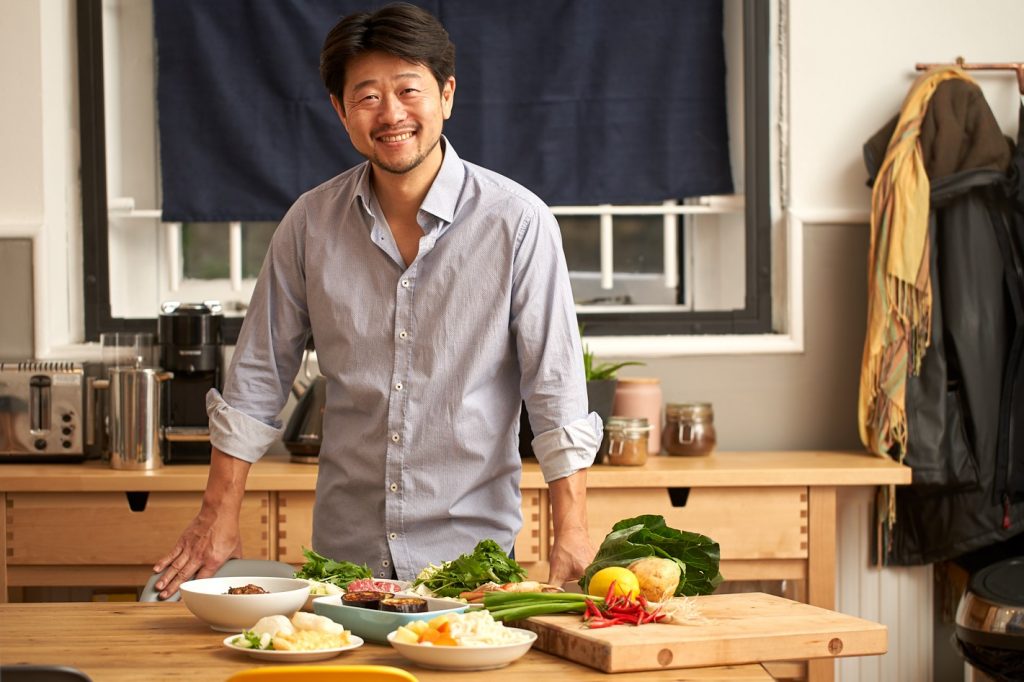 We live 100 miles away from London in Gloucestershire and I knew sashimi was included in the order. I was wondering how fresh everything would be when I finally served it up on plates for our dinner this evening.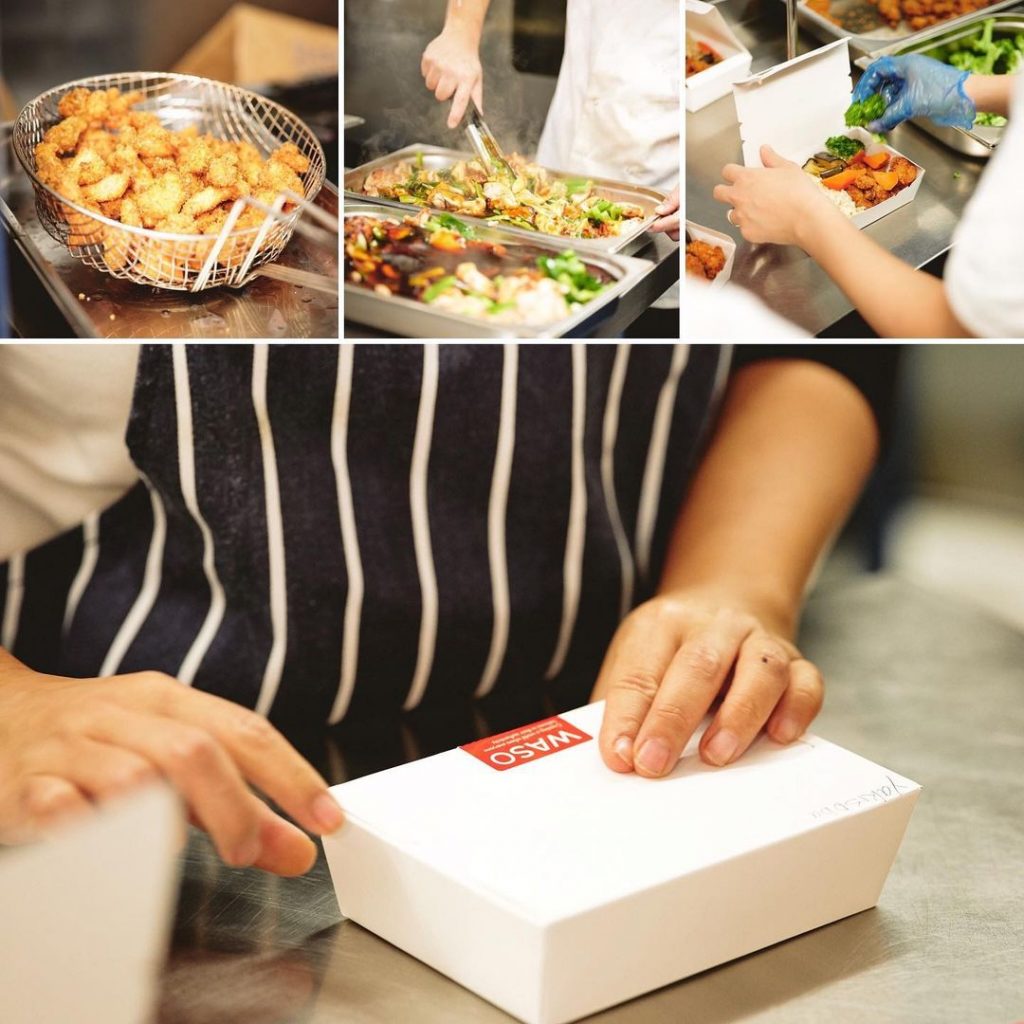 The DHL courier dropped off the box with all our WASO goodies inside at about lunchtime. When I opened the box, I was pleasantly surprised to see how well everything was packed to keep all the frozen food cool. As you can see in the pictures below, WASO use a double wrapping of WOOLCOOL thermal insulated packaging and inside that they place dry ice around the food containers. Everything was still very frozen so this WOOLCOOL is obviously very effective.
I cut open the packaging and left all the food in the containers before I went out for about two hours.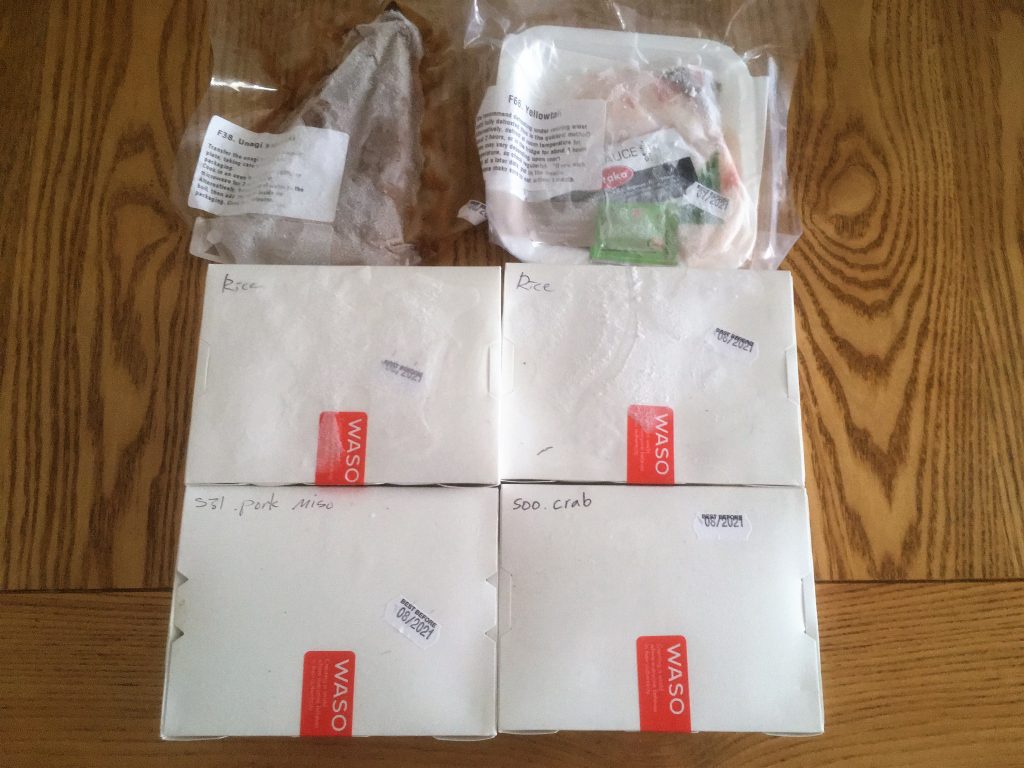 When I returned home, it only took 5 minutes in the microwave to heat up everything on plates. I didn't put the eel in the microwave. I placed the package containing the eel in boiling water for five minutes. I've used this boiling method in the past and I highly recommend it. The instructions are on the packet.
While the main dishes were in the microwave we ate the yellowtail sashimi. A packet of soy sauce and a sachet of wasabi horseradish were included with the packaging. It was so fresh you'd think I'd caught it and sliced it up that morning so we'd definitely order more sashimi and sushi in the future. I love mackerel. In fact, it's my favourite type of sashimi so I was in heaven eating this because it's a lot like mackerel but it has a milder taste.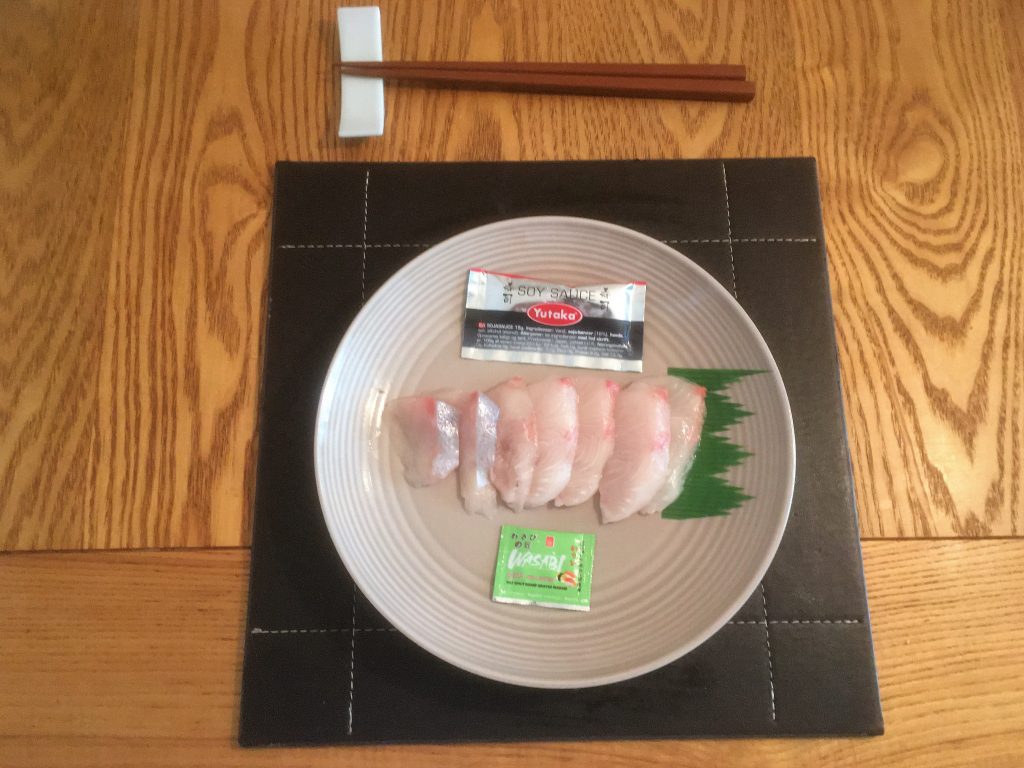 Roy had the miso pork, the rice and vegetable dish, and crab croquettes. He does like Japanese food but he's a bit more conservative than me when it comes to trying dishes he's never had before, so the pork dish was an obvious choice for him. He loved it and he's usually not someone to give praise easily. He thought the croquettes had a lovely texture and he said he'd definitely eat the miso pork again.
We loved the way a side of cooked courgettes, spinach and carrots were included with the rice.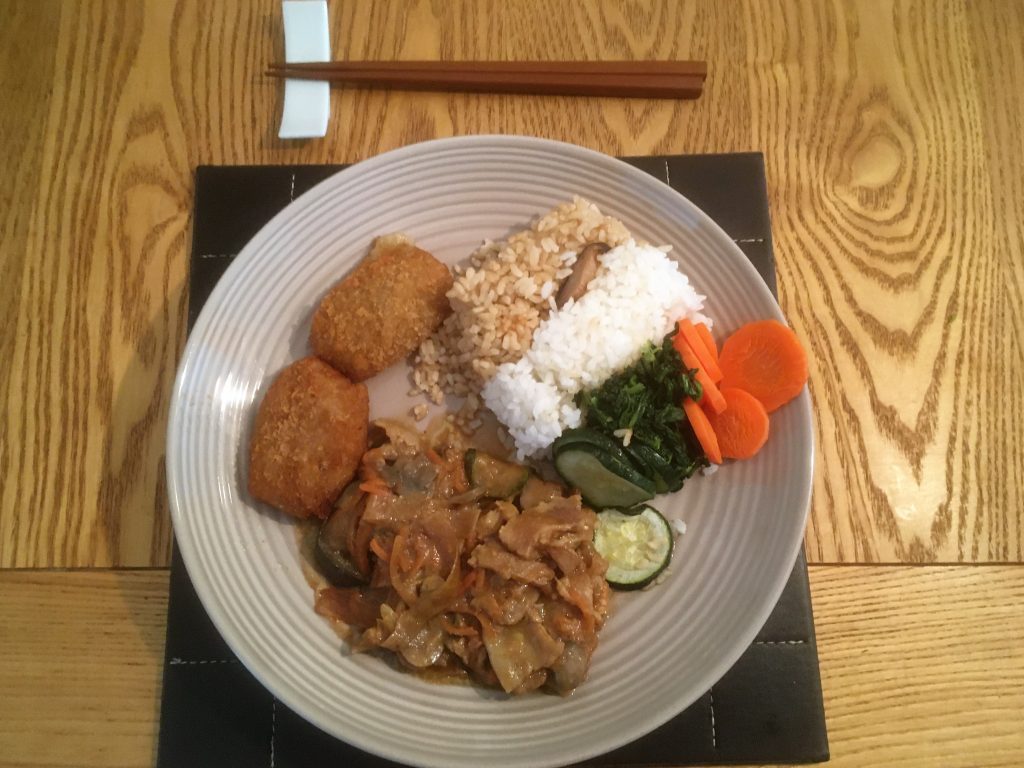 I had the unagi (eel), a rice and vegetable dish, and a croquette. A small container of tonkatsu sauce for the croquette was included. I loved the consistency of the croquette as well and my unagi was just so mouth-wateringly good. The sweet, firm-fleshed eel was extremely tender and the taste was lovely and mild with no aftertaste.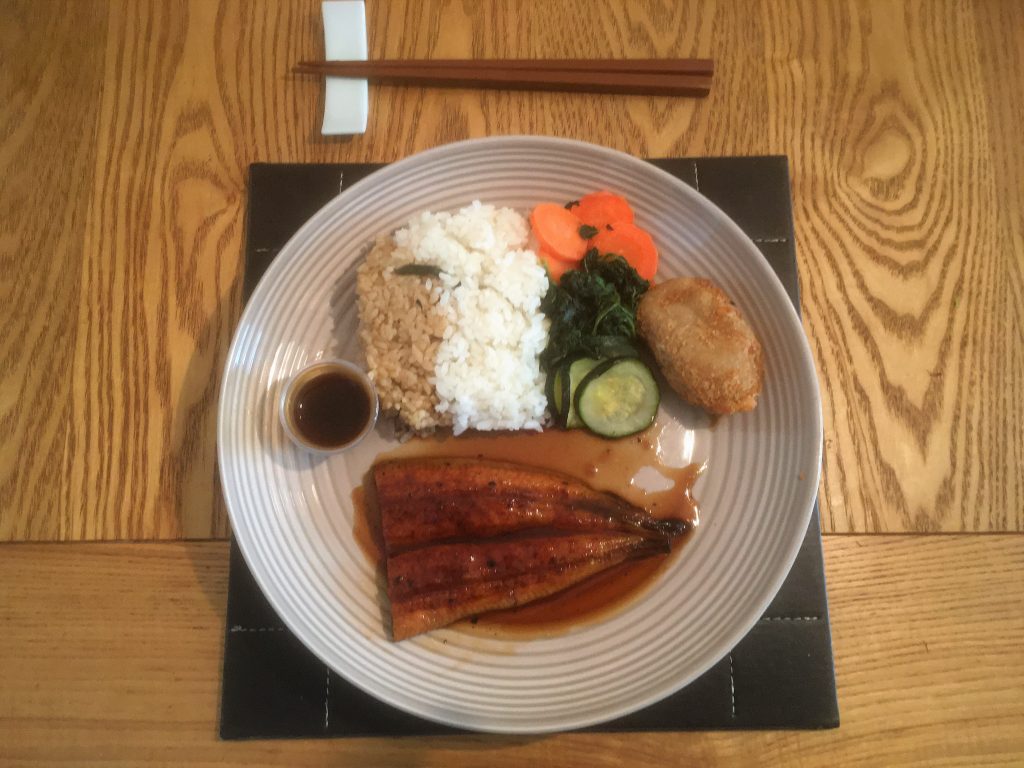 Japanese people ordering from WASO will be so impressed when they try the rice. When I put it in the microwave for five minutes I thought it would probably be hard in places or cold in the middle of the blocks of rice but it was prepared to perfection! I don't know how WASO does this. It was unbelievably good rice.
There's a minimum £25.00 spend for delivery within the London area. Admittedly, this service does get a bit costly when you're just feeding a couple like my husband and me because there's a minimum £45.00 spend if you live outside of the London area. But, we've realised there's a way around this. You just need to buy enough dishes for two days! When we went to Pizza Hut it cost us £45 for one pizza and drinks. I'd prefer to eat these delicious, healthy and well balanced Japanese meals from WASO and you get so much more for your money.
WASO have a special offer at the moment. You can get 15% off your first order until the end of June so visit the WASO website, mention the code Renae15, and treat yourself to some of their delicious dishes. You won't be disappointed. If you're having a party WASO also does catering for large groups.
Here are a few more dishes you can order from WASO. As you can see, everything is reasonably priced and very tempting.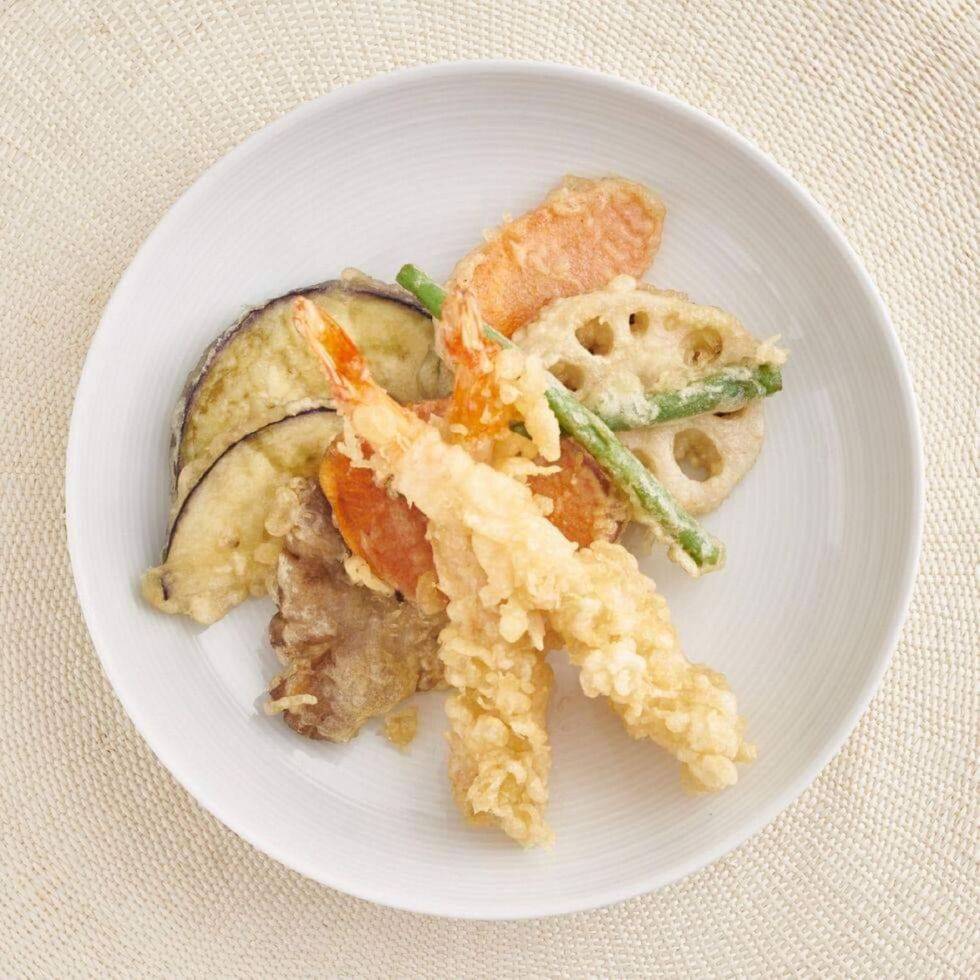 Thank you so much WASO for sending us such delicious dishes. Everything we ate today was so flavoursome and delectable. It's great to know we can order such fresh and wonderful Japanese meals and have them delivered to our home now and in the future.
WASO are on Twitter, Facebook and Instagram. If you love Japanese food please show them your support on these social media platforms.