This year in September, we spent three days/two nights in Karuizawa, a beautiful part of Japan nestled in the mountains north/west of Tokyo, not far from Nagano. If you're planning to visit Tokyo but you'd like to escape this bustling metropolis for a few days then Karuizawa is well-worth a visit. If you've never been to Japan you'd be better off visiting Kyoto, Japan's cultural epicentre, but I've been to Japan seven times so I was looking forward to exploring somewhere different, a place that didn't have hordes of tourists. In fact, I only saw two other Westerners the whole time we were in Karuizawa! An added bonus is it's now easier than ever before for tourists to visit Karuizawa thanks to the Tokyo Wide Pass which allows you to travel to and from Karuizawa on the Hokuriku Shinkansen bullet train for just ¥10,000.<
Karuizawa has always been an upmarket resort area favoured by wealthy Japanese people and foreigners but the Imperial Family also love to take time out and relax in this area. In fact, Emperor Akihito and Empress Michiko actually met each other on a tennis court in Karuizawa in 1957 so this area will always have a special place in their hearts.
Many famous people have villas in Karuizawa. The Japanese actress Sayuri Yoshinaga and the actor Ken Watanabe have houses in Karuizawa and there's a rumour Bill Gates had an enormous house built here in 2013 on a 22,000-square metre plot, about half the size of Tokyo Dome, at a cost of eight billion yen. Many years ago, John Lennon and Yoko Ono enjoyed staying regularly at the Mampei Hotel in Karuizawa and famous Japanese writers such as Yukio Mishima and Yasunari Kawabata have reportedly stayed at this hotel as well.
There are many scenic areas in Karuizawa such as Kumoba Pond and Shiraito Falls but it's lovely just to drive through or walk along the tree-lined streets in and around Karuizawa. This picturesque town sits at the foot of Mount Asama, one of the most active volcanos in Japan. There have been regular eruptions for hundreds of years. Below is a photo of Mount Asama erupting many years ago with some Japanese locals looking on.
Karuizawa is a great place in summer to play golf, take long bike rides and shop. In winter, the hot springs are very popular and people come from overseas and from all over Japan to ski at one of the 14 ski resorts near Karuizawa. If you plan to go skiing here take advantage of the "Karuizawa Basecamp Passport", a multi-mountain pass for 12 resorts in the area.
I visited two shopping areas in Karuizawa: The Karuizawa Prince Shopping Plaza and the Kyu-Karuizawa Ginza shopping strip.
The Karuizawa Prince Shopping Plaza is a very fashionable outlet shopping mall with lots of famous high-end brands. It's located just outside the South Exit of Karuizawa Station. We were staying at the Hotel Cypress Karuizawa which is only a 15-minute walk from this shopping mall so it was a very convenient place for us to shop and my husband and I picked up a few bargains here. Roy bought some loafers from the Timberland store for just over ¥5,000 and I bought a Coach business card holder for about the same price, reduced from ¥17,000! I didn't take many photos here because there really wasn't anything unique to photograph.
My favourite place to shop was Kyu-Karuizawa Ginza-dori. I really liked the fact it was such an eclectic shopping experience. As we wandered up and down this quaint street, it was nice to see most of the shops in this area have been unaffected by the modern fads and tacky consumerism you see in areas like Harajuku in Tokyo.
Below are the photos I took of some of the shops along Ginza-dori and a few of the items you could buy inside. Some of the shops are very upmarket and expensive but there were also several boutiques in Kyu-Karuizawa that are more tourist orientated and reasonably priced.
There are several shops, such as Osakaya and ICCHODO in Karuizawa, selling exquisitely crafted and very beautiful handmade wood carvings.
Tsuchiya Shashinten has a huge selection of stunning recent and historical professional photographs of the Karuizawa area, Mount Asama and the Imperial Family that you can buy for just a few hundred yen.
Gallery Miyagi displays and sells beautiful kimonos, kimono accessories and genuine diamond Art Deco jewellery from London.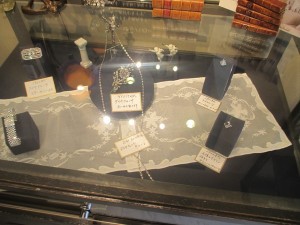 Chieko Kanda (pictured next to me below) loves to welcome new customers to her shop Gallery Yōji in a side street off Ginza-dori. I was really impressed by the watercolours painted by Chieko and her husband Yōji Kanda and I bought a couple of pictures for just ¥1,000.
Doggy House Karuizawa has a variety of very cute clothing for dogs as well as accessories and toys to keep your four-legged friend warm and entertained for hours on end.
You'll be in Ghibli heaven at Donguri Kyowakoku – the Ghibli store in Karuizawa. This shop has really high-quality Ghibli-themed items ranging from towels and facecloths to flowerpots, pens and stuffed toys.
Bridal House TUTU Karuizawa, located between Ginza-dori and the Karuizawa New Art Museum, is the perfect place to buy contemporary and traditional kimonos for that special day.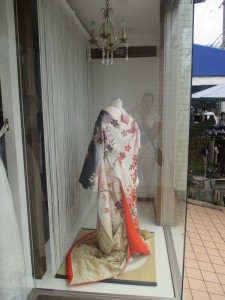 Foundry patisserie/cake shop is the best place to buy an omiyage (souvenir) for your foodie friends with a sweet tooth for gourmet delicacies. The store itself is a sight to behold. It looks very grand from the outside and the inside of the cafe is always beautifully decorated to match the seasons. You just know you're going to be paying high prices as soon as you walk in but I can assure you, you're going to be walking out with something very special. Foundry has such a good reputation you can also buy their cakes and other specialty foodstuffs at Mitsukoshi Ginza, Sogo Yokohama and Takashimaya Shinjuku as well as other prestigious department stores in Japan. Foundry is especially well-known for their seasonal fruits, deliciously baked confectionaries, and their Mont Blanc chestnut tarts.
Enjoy the taste of sweet caramels at Karuizawa Caramel Cream & Sweets. You can try before you buy at their enticing taste corner!
At the Honey Shop Karuizawa, you get an actual Giant Sparrow Bee (also known as an Asian Giant Hornet) in a squeeze bottle of honey! This shop also sells Proherb creams and lip balms made with honey, of course!
Atelier Kabiriya is a great little shop to find kawaii, fun, and cheap souvenirs, socks, magnets, novelty snacks, keyrings and pens, Doraemon toys, cheap but pretty umbrellas, Hello Kitty merchandise, soft toys and so much more!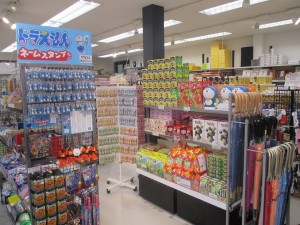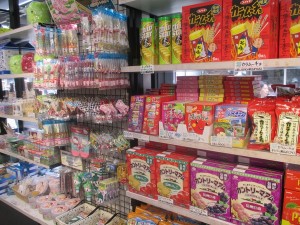 We stopped to have lunch at Boulangerie Asanoya. The outside of the bakery looked really inviting and we were spoilt for choice when we went inside. This bakery is obviously a firm favourite with the locals. There were tables inside but they were all taken so we had to eat our lunch standing up against the counter because this place is so popular, even mid-week at 11 a.m. This bakery has been using European-style baking methods since 1933 and everything inside looks and tastes absolutely delicious. I had a bacon and potato focaccia and an apple pie made from Nagano Mori apples. My husband had a cheese stick and a club sandwich made with rustic bread. The food was so good it was difficult not to order more yummy pastries on our way out.
If you're visiting Karuizawa and you'd like to find out more about the attractions in the area and skiing in Karuizawa drop in for a drink at Kevin's Bar and say hello to the owner Kevin Meyerson, an expat who has been living in Karuizawa for many years.
I hope you've enjoyed reading about Karuizawa and looking at all the photos. Please feel free to leave a comment if you've been to Karuizawa or if you're thinking of visiting Karuizawa in the future. I look forward to reading your comments and hearing about your experiences.