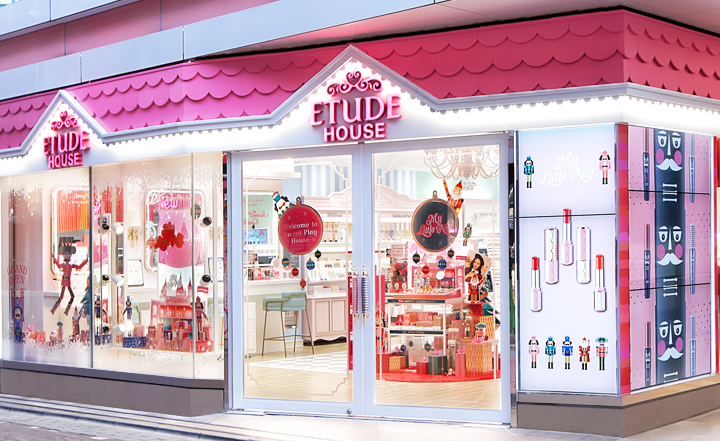 "Beneath the makeup and behind the smile I am just a girl who wishes for the world." — Marilyn Monroe
If you live in Japan or South Korea and you're a fan of cosmetics and makeup you may have been hiding under a rock if you haven't heard of Etude House. This famous South Korean brand with its pretty packaging and adorable bright pink window displays has been going from strength to strength all over Asia and it's now hugely popular in Japan. If you haven't bought at least one of their products I highly recommend you plan a visit to one of their stores or order online asap and I can assure you you'll be pleasantly surprised with the price and the quality of these cosmetics.
If you live in Japan, there are stores all over the country from Hokkaido in the north to Fukuoka in the south and of course you can find Etude House shops all over Tokyo with a total of 12 stores in nearly all of the major shopping areas. I bought the above products from the Takeshita Dori Head Office store in Harajuku where you can find a wide range of products, but there are also branches outside of Japan in South Korea, Taiwan, Singapore, the Philippines, Brunei, Dubai, Saudi Arabia and Kuwait! If you live in the U.S. you can buy directly from etudehouse.com. If you live in Australia, nudieglow.com stocks Etude House. If you're in the UK you can buy Etude House products from YesStyle.com and if you live in Europe you can get these cosmetics on Amazon.
Everything in the Etude House range is reasonably priced and I truly believe the products are of very high quality. Okay, a couple of products were recalled this year in March 2018 for containing excessive traces of metal (the AC Clean-Up Mild Concealer and the Drawing Eyebrow Duo No 3 Gray Brown) but c'mon guys, they sell hundreds of different products and they have 231 stores worldwide so it's not surprising they've come across a few minor glitches.
Even though I've only known about this makeup colour and cosmetics brand for about five years, this South Korean company was actually established in 1966. Etude House Seoul was launched in 2005 and they opened their first store in Japan in 2011.
Now, let's get on to the most interesting part of this blog post — the Etude House cosmetics — and I'm going to be completely honest here as I weigh up the pros and cons.
◆ Face Blur ◆

Let's start with the Face Blur primer. A primer is a cream or lotion used to create an extra layer between your skin and your makeup. These base products have been around for some time now and I love them. Your foundation goes on a lot better when you use a primer and they can definitely minimize pores. Face Blur by Etude House does all of this and a little bit more. When you apply it, you'll notice it gives you a base but it also acts a little bit like a skin whitener. If you're Caucasian like me you may be wondering why you'd want to do this but if you're Asian you're going to know exactly what I'm talking about and you're going to love this Face Blur because it illuminates the skin and lightens yellowish skin tones. This is something nearly every Asian woman I've met wants to achieve. I do like the pearly sheen it leaves on my skin but my skin doesn't need whitening so I prefer The Porefessional Face Primer by Benefit Cosmetics. I think it does a better job of minimizing my pores.
◆ Double Lasting Foundation ◆
Next up is the Double Lasting Foundation by Etude House with SPF 34. Just the fact it has a high SPF factor is a real bonus but I love this product for so many other reasons. It's low in price, it gives great coverage, my skin never looks oily, it doesn't run off my face, and it lasts all day. What more could you ask for in a foundation? I live in the UK and I know the rest of the world thinks England is always dull, cold and dreary but we've had some really warm and humid summer months over the past few years and this is the best foundation for that. It feels light but it covers my face really well and it doesn't slip off my face at all so I always wear this particular foundation in every month of the year. The only problem you may encounter when you're thinking about buying this product is if you're looking for darker colours you won't find any darker than tan. However, after speaking to a customer service representative in Dubai I was told this is something Etude House might introduced in the future.
◆ Lash Perm Proof Mascara and Volume Mascara ◆
Okay ladies (and maybe a few gentlemen out there!), how many different mascaras have you tried in your lifetime? I've tried a lot so I'm pretty selective about my mascara now and I know what I like and that's Estée Lauder Sumptuous Extreme Lash Multiplying Volume Mascara but I'm always willing to try cheaper mascaras and that's one of the reasons I bought the Etude House Lash Perm Proof Mascara as well as their Volume Mascara. The Proof Mascara makes your lashes longer and the Volume mascara makes them appear thicker. Used together you can achieve really dramatic full fat lashes but there's just one problem that I encounter every time I use these mascaras: my eyelashes curl naturally and these mascaras have brushes that are made to curl your lashes as you darken them but that means I get quite a lot of product on my eyelids that I need to wipe off after using them. If you're Asian there's a good chance your lashes are dead straight so you probably use a lash curler and if this is you then you're in luck with these Etude House mascaras. You could probably ditch the curlers and just use these mascaras to create really long, thick lashes that curl up with a flick of the wand. I think these mascaras are the perfect choice for Asian lashes but for me, not so much.
I like a more natural look when it comes to eyeshadows and Charlotte Tilbury's face palettes help me achieve that look but I bought the Etude House Bling Bling Eye Stick #9 in Gold Meteor to apply just near my tear ducts to give my eyes a wider look when I go somewhere nice with my husband in the evening. This product goes on well and stays on for hours so I wish I'd picked up so many more of these in Harajuku. I'll definitely buy some more Bling Bling Eye Sticks in the future because they're cheap and as you can see in the chart above they have some great colours that would work in the day and the night to give your eyes a lovely velvety effect with a subtle sheen.
◆ Oh M'Eye Line ◆
The final product I want to talk about is the Etude House Oh M'Eye Line eyeliner and what an eyeliner it is! I adore this eyeliner although I tend to use it more when I'm going out in the evening. I have bought so many crayon eyeliners in the past that look so good when you put them on but they fade away in a matter of minutes. In contrast, this eyeliner from Etude House gives a fantastic jet-black finish that stays on for hours. If you're not used to liquid eyeliners it might take you a couple of tries to get the perfect straight line but when you do, you'll be really happy with the result. You can also make that black line as thick or as thin as you like and this eyeliner is the perfect product to get that winged eyeliner flick that's trending right now.
There are quite a few other bloggers out there who have reviewed Etude House products and we all like different items in the range so don't be afraid to try some of the products I haven't mentioned in this blog post. I'd love to hear what you think of Etude House and whether you'd recommend their cosmetics and skincare to others in the future.