This competition is now closed. The winner is Ramses Cabello from Denmark!
It's time for another giveaway competition!! I will send one lucky winner the oh-so-stylish MURAKAMI 2020 DIARY!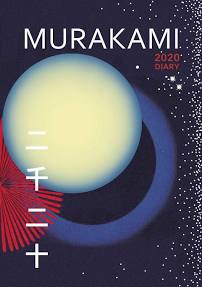 All you need to do for a chance to win is to leave a reply in the comments section below with the title of your favourite Haruki Murakami book and I'll choose a winner on Tuesday, 28 January 2020!

If you're reading this and thinking about entering this competition I guess you're a fan of Haruki Murakami, Japanese culture or just gorgeous diaries. Whatever your motive, you're going to love this Murakami diary designed by book designer Rosie Palmer and Suzanne Dean, the Creative Director at Vintage Publishing.
The highlight of this diary really is the design and artwork on the cover and throughout. I'm sure I'm not the only person who appreciates Murakami's book covers (and his writing, of course). I'm always waiting impatiently for the book cover release whenever a new novel is announced. They're always very modern and really clever in their approach. Well, this diary is a culmination of those superb book covers and so much more. Inside, the months are written in English and Japanese (e.g. January 一月) and the days of the week are on the left. The covers, book quotes, Japanese calligraphy, and unique artwork inspired by Murakami are mostly on the right and it's all of this artwork that will have you flicking through the pages over and over again. For me, the seasonal colours and patterns on the pages seem reminiscent of the sumptuous Japanese textiles featured on kimonos from the Edo period.
This diary is not just beautifully crafted, it will fit easily into a large handbag and it's slim enough not to take up too much room beside your textbooks in your backpack. The hardcover has a soft, velvety finish. The paper inside is the perfect thickness. There's a long red ribbon bookmark so you can find your place easily and you're never going to forget Japanese national holidays, seasonal days, and festivals like Golden Week or the hina-matsuri Doll's Festival thanks to the reminders.
If you want to find out more about Haruki Murakami, the author and his books, head over to Books on Asia for top reviews and an interview with Lena Baibikov, a Murakami non-fiction translator.