Tokyo is a fast-paced city, a place where excitement and exhilaration breed and embrace a complex culture that allows tradition and modernity to merge and flourish. Every transaction, bow, smile, human connection and act of service in Japan's capital is delivered with a selfless willingness to make you feel comfortable and at ease as you navigate this awe-inspiring metropolis. The hotel that provides better customer service than any other is, in my opinion, the Mandarin Oriental, Tokyo.
In September last year, my husband and I celebrated my birthday at the Oriental Lounge on the 38th floor of the Mandarin Oriental where we enjoyed the Golden Fan Afternoon Tea "Escoffier". We'd thoroughly enjoyed afternoon tea at Claridge's in London a few years earlier and the food and service there had definitely been first-class so we thought this experience would be hard to beat but we were wrong — the Mandarin Oriental in Tokyo went above and beyond anything we were expecting.
I can't say enough about the great customer service we received at this five-star hotel in Nihonbashi, a district famous for textiles and kimono. As soon as you enter the Mandarin Oriental you quickly discover nothing is too much trouble, nearly everyone speaks English extremely well and the staff all have a sincere commitment to providing their guests with an outstanding level of service that is truly memorable.
We were shown to our seats as soon as we entered the Oriental Lounge. My husband and I love a good cup of tea so we sipped and sighed in comfort as we enjoyed the refined flavours of a couple of blends on offer and gazed down upon the streets of Nihonbashi and the surrounding business and shopping districts. Unfortunately, the cumulus clouds that afternoon prevented us from seeing Mount Fuji which would have been a sight to behold from our excellent vantage point next to the floor-to-ceiling windows. However, the picture below shows just how clearly you can see Mount Fuji in the distance on a winter's evening.
As we waited for our food, we noticed the staff seem to effortlessly float across the room and even though they were entirely non-intrusive they were ready to serve you with a confident smile at a moment's notice.
It didn't take long for the food to arrive, all beautifully arranged on a three-tier afternoon tea stand. My heart fluttered when we noticed the staff had thoughtfully placed a chocolate plaque on the top wishing me a happy birthday! It's the little touches like this that give a five-star hotel the human touch. We started with the savoury assortment and I was pleased to discover every bite was delicate but rich in flavour. This was followed by mouth-watering lemon and cheese scones and exquisite petits-fours. The sweet but subtle tastes of the Caramel Pudding with Guerande Salt, the Fuji Apple Tartlet, the Chestnut Honey Madeleine Glazed with Lemon as well as the Nelly Melba Peach, created by August Escoffier in 1893, were all scrumptious.
The highlight of the afternoon tea for both my husband and me was definitely the Lobster Medallion and Cauliflower Coulis with Caviar that simply melted onto our taste buds. We both reacted with oohs and aahs. We couldn't hold back our delight and appreciation.
We were very impressed with the afternoon tea and luckily for us our experience was enhanced even further when we met the concierge, Tomoya Mori, in the Main Lobby adjacent to the Oriental Lounge. Tomoya was very friendly, he spoke fluent English and he was able to answer some of our questions about the rooms at the hotel and all the five-star facilities the guests could enjoy.
Tomoya later introduced us to the Assistant Public Relations Manager, Chie Kuno, who proudly showed us around this magnificent hotel. Chie explained how the hotel is like a tree and all the rooms, with either a prime view of Tokyo Skytree or Mount Fuji, are the leaves. The forest and water symbolisms continue throughout the hotel from the rugs in the rooms to the furnishings in each of the twelve restaurants and bars including the gourmet shop.
But it's all the five-star extras that make this hotel so great.
For example, an invisible butler will pick up your dry cleaning and polish your shoes!
The spa at this hotel is also world-class. It was named as one of the top 25 spas in the world by Condé Nast Traveller in 2011, follows the same philosophy as the rest of the hotel with a dedication to peace and serenity and finding the optimal balance between mind and body. Skincare and wellness products produced by Subtle Energies, an Australian skincare brand, are gently applied in treatments to soothe and de-stress every muscle in your body so you look and feel fantastic every day during your stay and even after you've checked out of the hotel.
We all know Christian Louboutin is a brand synonymous with style and opulence but at the Mandarin Oriental, Tokyo you can enjoy a Louboutin nail treatment for a fraction of the price you'd pay for a pair of those famous Louboutin shoes. Think sassy, sexy and eye-catching nails that will make you look like a million dollars or in this case a million yen!
You can also dine at Sushi Sora or sit counter-style at the pizza bar that was awarded the Michelin Bib Gourmand in 2018. Don't worry too much about the calories, the pizza dough here is 80 percent water. You can even make reservations for the Chef's Table in the private wine cellar for two to eleven people.
This luxurious hotel also boasts three restaurants with a Michelin star. For something different, chat with fellow guests as you enjoy the molecular menu at the eight-seat tapas bar or dine on Cantonese cuisine at Sense, the Chinese restaurant offering panoramic views of Tokyo and tea tastings at any hour of the day. Signature (pictured below), their contemporary French restaurant with its ornate décor, offers an impressive dining experience. It's the perfect place for a romantic dinner or a group celebration.
The Mandarin Oriental in Tokyo is superbly located on the top nine floors of the 38-floor Nihonbashi Mitsui Tower. Sit back and relax in style as you sip on a Negroni Sbagliato cocktail in the Mandarin Bar or enjoy the best the hotel has to offer while you unwind in the marble bath in the Presidential Suite.
So, if you're flying to Tokyo for work or as a tourist or if you're thinking of attending the 2020 Olympics (in which case you should think about making a reservation as soon as possible) I highly recommend the Mandarin Oriental. It's one of the best five-star hotels in Japan where you'll feel very welcome and extremely comfortable and you can rest assured every single staff member will go out of their way to ensure your visit or stay is one you'll always remember.
🌸 SPRING CHERRY BLOSSOM PROMOTION! SAKURA AT MANDARIN ORIENTAL, TOKYO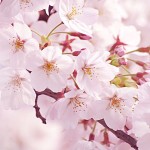 This spring, cherry blossoms are featured in promotions throughout the Mandarin Oriental, Tokyo. The cherry blossom season is celebrated in the Sense Tea Corner on the 37th floor and Sakura Dim Sum Afternoon Tea is served on weekdays only from 15 March through to 27 April (4,800 yen per person).
Interesting fact: In 1598, feudal leader Toyotomi Hideyoshi hosted a cherry blossom viewing at Kyoto's Daigo temple. Preparations began well in advance, with delicacies brought from throughout the land. During this era, lavishly decorated tiered lacquer boxes became popular among the upper classes and box lunches prepared for flower-viewing excursions were truly extravagant creations. Warlords and nobility alike seemed "to prefer dumplings to flowers".
During the period 15 March through 27 April, chefs and bartenders at venues throughout the hotel will also present artistic gourmet indulgences based on a cherry blossom theme. At night, the Zen Garden pop-up bar features highly original cocktails. Enjoy cherry blossom viewing in the spirit of the Mandarin Oriental, Tokyo with cocktails from 2,300 yen.
Don't miss the areawide Nihonbashi Sakura Festival (16 March – 15 April) featuring food stands offering local delicacies near Fukutoku Shrine on 31 March and 1 April. In shades of pink, "Sakura Lightup" brings new beauty to Nihonbashi after dark. Experience an exciting fusion of dining, art, and cherry blossoms in springtime Nihonbashi.