I started studying Japanese language and culture at university in Australia when I was seventeen. At the same time, I worked part-time for a very popular fashion company called SABA. This is where I started to appreciate high-end fashion by Japanese designers and I began to understand why fashion is such an important part of a country's culture. Most of the clothes at SABA were upmarket but reasonably expensive. Their designs were also extremely sought-after by men and women of all ages and therefore we were always busy. I was very lucky to work there for about four years and I enjoyed every moment. Joseph Saba, the man behind the label, has been described as "arguably the most creative force in Australian fashion".
I now live in the UK but I visited Australia a few years ago for a couple of weeks and although SABA was acquired by the Apparel group in 2005, I still thought that SABA was the best place to shop.
Many years ago when I was working for this popular retail brand, most of the clothes were sold under the SABA label but at that time SABA also sold a selection of elite items in their flagship store from Japanese designers such as Comme des Garçons by Rei Kawakubo, Yohji Yamamoto and Issey Miyake. I was very young when I worked at SABA so the older and more experienced sales assistants used to look after any customers who were interested in buying these exclusive pieces. However, this didn't stop me from admiring the quality and aesthetic beauty that each piece represented. A few years later when I lived in Tokyo, I bought several pieces from all three designers and I know they'll always be absolute classics which will never go out of fashion. By the way, my favourite Japanese designer is Yohji Yamamoto – I think his designs are just as clever as they are beautiful.
There are many famous Japanese fashion designers that I could mention but I have always been drawn to Comme des Garçons, Yohji Yamamoto and Issey Miyake, probably because of my experience working with these brands at SABA. These designers are world famous. They have been around for decades but each item in every collection is timeless. As well as this, each fashion piece is a work of art and a good investment. If you're in Tokyo take the Omotesando subway (Chiyoda, Ginza, Hanzōmon lines) exit A5 to visit the flagship stores in Minami-Aoyama for all three designers.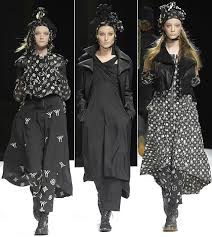 Yamamoto is known for his innovative style and billowing navy and black designs. Step into his store in Minami-Aoyama and you'll see what all the fuss is about. Try on the clothes and you'll become an instant fan. Up close, the cut and the stitching on each of his designs will amaze you and leave you incredulous. Walk in his designs and you'll feel like you're wearing a piece of art. Yamamoto has collaborated with Adidas, Hermès, Mandarina Duck and many well-known celebrities.
• COMME DES GARÇONS BY REI KAWAKUBO
The Comme des Garçons label was started by Rei Kawakubo in 1969. Many of the designs have a distressed look, allowing the feminine to be blended with the masculine. Kawakubo's designs often have a sculptured look about them. They are presented in monochromatic tones and they are never tight-fitting or revealing. Fabric is the most important consideration at the start of each design and each design is structured to allow the individual to express themselves and stand out in the crowd. Kawakubo's designs were particularly popular in the 1980s because they represented strength and power.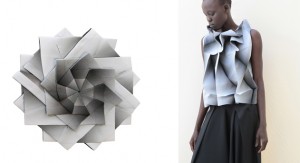 Issey Miyake studied graphic design at university and this explains the reasoning behind his technological innovations. His Pleats Please collection became instantly popular in the early 90s. Each piece is made of 100% polyester fabric and it doesn't need to be ironed, making it extremely functional. Steam is used to create each fold in an origami-like fashion. Issey Miyake is currently using 3D steam stretch fabric to create even more futuristic designs. The perfume L'eau d'Issey is a bestselling scent that has become a symbol of sophistication.