It's always a good idea to buy a new travel guide if you're itching to visit the Land of the Rising Sun or if you live in Japan and you want to explore more of the country. Take a look at these four Japan guidebooks below. Each guide will appeal to a certain type of traveller. Simply choose the one that's right for you.
DK Eyewitness Travel Guide: Japan published by DK Eyewitness Travel, flexibound £15.18, paperback £34.95, 408 pages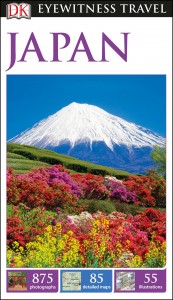 Essential information is delivered in short paragraphs so this is perfect for travellers who don't want to spend a lot of time reading but it's the 875 stunning photos that make this guidebook so appealing. There's also an emphasis on the cultural and historical aspects of Japan presented with 85 maps and 55 detailed illustrations. An added bonus is the durable flexibound cover which keeps the book clean and the pages protected from dog-earing.
Flipping through this guidebook, you'll discover one page or two dedicated to aspects of the Japanese culture that require further explanation such as the differences between geisha, geiko and maiko in Kyoto, the inner-workings and the towers at Himeji Castle and the significance of the floating world of ukiyo-e woodblock prints.
Realizing tourists are interested in exploring areas outside of central Tokyo there's a great introduction to Kamakura as well as Mount Fuji and the Fuji Five Lakes. For those who want to travel even further afield, there's in-depth information about surrounding areas like Takayama with corresponding illustrations. The depiction of a gassho-zukuri house, famous in the Shokawa Valley for its steep thatched roof built to represent praying hands, is well-worth examining.
Fashion lovers will appreciate the sections dedicated to shopping with information on how to pay, the sales tax, rights and refunds, tax-free shopping, and the differences between Western and Japanese sizes. If you're interested in buying tea, ceramics or traditional washi paper you'll love the summary of specialty souvenirs in Kyoto.
Foodies will zero in on A Gourmet Tour of Central Japan recommending the chestnut confectionery in Obuse or the sasamushi (eel steamed in rice wrapped in bamboo leaves) in Matsumoto, as well as other local delicacies. There's also a focus on the differences between Edo and Kansai cuisine and the types of tea, sake, soft drinks and beer sold primarily in Japan.
A brief but excellent nine-page guide to the history of Japan at the beginning is enough for first-time travellers and you can expect a short but informative description for each area when a new part of Japan is introduced. Sections are also dedicated to Northern Honshu, Hokkaido, Shikoku, Kyushu and Okinawa. These are colour-coded which makes it easy to turn to the area of your choice.
This guidebook also has lots of helpful hints and information on onsen (hot springs), the science-based, historical and foreign culture theme parks, as well as the popular amusement parks in Japan. There's also a survival guide for travelling with children or if you're visiting with a disability and a short section on how to be an environmentally responsible tourist.
Lonely Planet Guide Japan (Travel Guide) published by Lonely Planet, paperback £12.91, Kindle £12.91, 928 pages.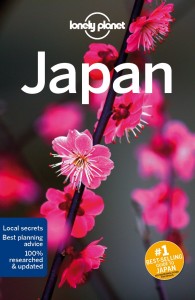 This 2017 version with its pretty plum blossom cover is very comprehensive. It would make a fantastic reference book for hard-core visitors who plan to travel the length and breadth of the country. It would also appeal to niche travellers planning a skiing trip or travelling with children, hikers, adventure lovers who want to climb Mount Fuji and anyone who wants to know what's new and interesting in Japan right now.
Fans of Lonely Planet Guides love their detailed maps and their insiders' opinions on why a particular hotel or other form of accommodation is so appealing and you can expect the same from this Japan guide. There's also a good-sized pull-out city and subway map at the back and lots of detailed maps inside to help you get around the different prefectures and towns.
Snippets of invaluable information are highlighted in yellow and red throughout the book with the titles Don't miss, Worth a trip and Local knowledge. These are must-read sections to ensure you get the most out of every area you visit.
This Lonely Planet Guide certainly covers a lot of areas but it does go into more depth with several points of interest that deserve attention. The section on the Ainu, Hokkaido's indigenous people, is particularly enlightening and the poignant descriptions of the atomic bomb explosions over Hiroshima and Nagasaki are essential reading.
The pages dedicated to the Northern Honshu, Tohoku region are also good. Train geeks will enjoy reading about the novelty trains in the area, you'll want to make a note to visit the medieval town Yonezawa best known for its Yonezawa-gyū (local beef) and there's a section dedicated to the famous music, arts and environmental Earth Celebration in Ogi.
A pocket-sized Lonely Planet Japanese Phrasebook and Dictionary is also available. It includes essential but very basic tips on speaking, pronouncing, reading and writing Japanese as well as a 350-word two-way dictionary.
Must-See Japan: The Complete Insider's Guide to Seeing the Best of Japan in One Trip by Tom Fay, published by CreateSpace, paperback £5.79, Kindle £3.49, 174 pages.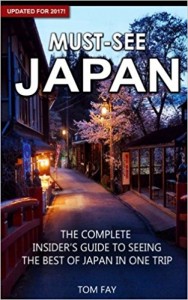 Published in 2016 but updated in 2017, Must-See Japan is a brief travel guide that focuses on the three main areas tourists want to visit: Tokyo, the Mount Fuji region and Kyoto. This guidebook is perfect for visitors planning a short stay, backpackers who don't want to lug around a bulky guide and travellers who want a concise guide that will fit neatly into their handbag or carry-on.
This travel guide claims it's an insider's guide to Japan and it certainly delivers on this promise with lots of great recommendations throughout the book. Even regular visitors to Japan will discover lots of new and different experiences, great restaurants, and out-of-the-way places they've never heard of before.
Find out where you can eat tendon (tempura over rice) at the first restaurant in Japan to serve this dish, which travel pass you should buy if you're in Osaka for only a couple of days, and the best time of the year to climb Mount Fuji. These tips and so many other helpful suggestions are all packed inside this short but very informative guidebook.
Although this travel guide concentrates on the three main areas in Japan, it does cover quite a few other major and well-known areas including Osaka, Kobe, Hiroshima, Hokkaido, Shikoku, Kyushu and Okinawa. The information on these areas is limited but it's still well-worth reading the insider tips if you want a more memorable stay in Japan.
If you skip to the back of the book you'll find even more expert recommendations on must-eat foods, must-do activities, onsen, karaoke, shopping, hiking, sumo, ryokans (Japanese inns) and capsule hotels.
The Rough Guide to Japan published by Rough Guides, paperback £11.35, Kindle £13.67, 880 pages.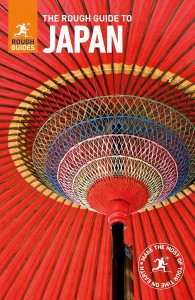 This 2017 edition with 880 pages is nearly as thick as the Lonely Planet Guide and just as informative if you want to know a little bit about anything and everywhere in Japan. The sections on Kyoto and Nara, Buddhist and Shinto beliefs and pilgrimages would really appeal to travellers interested in history, culture and the spiritual elements that are very much a part of Japanese life.
There's a list of 29 things not to miss at the beginning with corresponding page numbers so you can easily find that point of interest in the guidebook and you can expect entertaining and practical advice throughout. You're urged to turn on the TV in your hotel room and enjoy the fairly easy to understand food programs just for a laugh and there's excellent advice on earthquake safety procedures and how to call home if you want to contact your family.
You can also find out where to get the best coffee in Kyoto or for something different readers are advised to take the sake brewery tour in Kobe, join the Obubu Tea Farm tours in Uji or help the local community construct a giant snow sculpture in Odori Park at the Yuki Matsuri (snow festival) in Sapporo.
This guidebook also touches on current affairs in Japan such as the problem with Yasukuni and why this shrine is so controversial and the setbacks associated with relocating the Tsukiji fish market. There's also a quick guide on who's who in Sumo wrestling and information on renting a kimono in Asakusa, Harajuku or Shibuya.
The comment "I might as well be going to the ends of the earth" by the famous poet Matsuo Basho introduces the section on Northern Honshu where visitors can enjoy rural traditions and festivals. There's also a very informative section on the three sacred mountains of Dewa and its shrines in Yamagata Prefecture where you can see the yamabushi (mountain priests) practising ancient rites as they summon the gods.
Travelers who want to take part in other ascetic experiences should read the sections on the 88 Temple Pilgrimage on Shikoku and the Kumano Kodo trail in the southern Kansai region, as well as information on shukubō (temple lodgings) and the monasteries and temples where you can stop to worship.
The section on Okinawa towards the end of the guidebook gives a lovely description of these islands and its beautiful beaches where you can dive, snorkel and appreciate the underwater wildlife. There's also an interesting segment on the Ryukyu culture urging travelers to try the delicious Okinawan cuisine.