Tokyo is an expensive place to visit and some restaurants can cost you an arm and a leg but there are also lots of cheap eateries located all over the metropolis and Shibuya is no exception. Nearly everyone who visits Tokyo will head to Shibuya – a town smack-bang in the middle of Tokyo where young, hip and cool people meet to dine out or hit the shops.
The mouth-watering and delicious breakfast, lunch and dinner dishes I've suggested below were chosen because so many people who adore Japan or live in Japan are raving about them on social media and you'll love the fact you won't have to pay more than ¥1,500 (about £10, $US13, $AUS17) for these meals. The places where you can eat these dishes are also very close to Shibuya Station. You can use a navigator app or ask a stranger for directions. You'll be surprised how many people speak some English and how willing they are to help you get to where you want to go.
BREAKFAST: SOUFFLÉ PANCAKES at HOSHINO COFFEE inside 109 MEN'S MALL
Overlooking the scramble crossing in Shibuya, Hoshino Coffee serves pancakes that get a 5-star rating on TripAdvisor and if you look at the images below it's easy to see why. The pancakes are very thick yet incredibly light and fluffy and the general consensus is they're just "really awesome". They're served plain with maple syrup, with apple and caramel, banana and chocolate sauce, or even green tea ice-cream. You'll also be pleased to know a serving of the double plain pancakes with maple syrup is just ¥700, leaving you enough money to order a cup of their popular "hand-drip" coffee!
A Japanese breakfast typically consists of steamed rice, miso soup, grilled fish and side dishes and this should be on the breakfast menu if you're staying at a good four or five-star hotel or a ryokan. If you don't have this option you should definitely head to Shibuya and try the pancakes. They're not as healthy but so much more agreeable to the Western palate.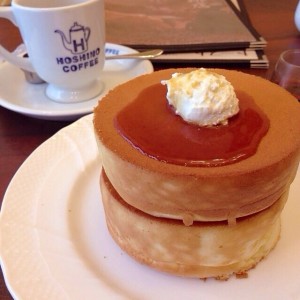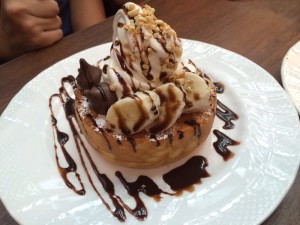 LUNCH: ICHIRAN RAMEN 
Some say Ichiran Ramen is the best ramen in the world so you have to try their famous noodles when you're in Japan.
This is the description of Japanese ramen on Wikipedia: "Chinese-style noodles served in a meat or occasionally fish-based broth, often flavoured with soy sauce or miso, and uses toppings such as sliced pork, dried seaweed, menma, and green onions."
Ichiran Ramen only serve pork/tonkotsu ramen but you can choose how spicy, rich and flavoursome you'd like the broth, how many pork slices you want, and how much garlic, spicy sauce and scallion you want added. If you're eating by yourself you won't feel self-conscious because Ichiran Ramen has a policy that reduces nearly all of the interactions between the staff and the customer. You buy your meal ticket from a vending machine and everyone sits in a private booth so you can concentrate on your meal without interruptions and distractions and thoroughly enjoy every mouthful.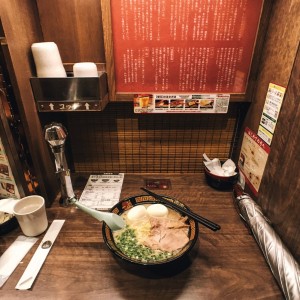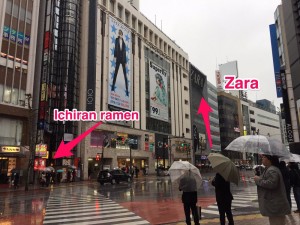 DINNER OPTION (1): YOSHINOYA BEEF AND RICE BOWL (GYŪDON)
Rachel W. on TripAdvisor says "Yoshinoya in Japan blew our minds"! She also left a comment saying the ramen tastes much better and the menu is more varied than Yoshinoya in the US, so you can't walk past this firm favourite. These Yoshinoya beef and rice gyūdon dishes are very popular with working-class Japanese. Therefore, some of your Japanese friends may not recommend it because it's such a common food chain but I can assure you every Japanese person at one time or another has craved a beef bowl at Yoshinoya when they're tired, hungry, strapped for cash and looking for the ideal comfort food. Even their regular gyūdon dish is completely satisfying and it's only ¥380!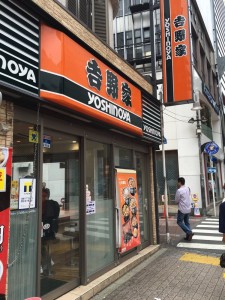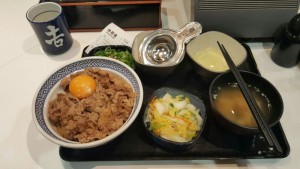 DINNER OPTION (2): GENKI SUSHI (CONVEYOR BELT SUSHI)
This fun and enjoyable conveyor belt sushi restaurant is really popular with the tourists. You order on a touch screen and the monorail track shoots out your sushi dish within a couple of minutes. Although, the quality of the food is good and you'll pay less than you would in your home country for conveyor belt sushi (plates start from just ¥100), this shouldn't be the only restaurant you try when you're in Japan because you're not getting a purely Japanese experience. But if you live in Japan and you're trying to save money or if you have kids and can't take them to fancy restaurants, or if you're just craving sushi and the 5-star sushi bars are right out of your price range then this is a cheap option.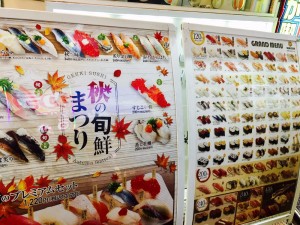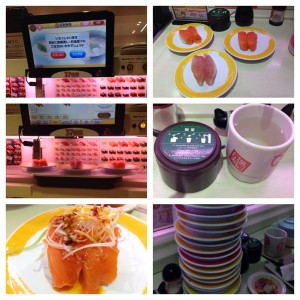 DESSERT OR SWEET TREAT: CREMIA SOFTCREAM at SILKREAM
Japanese people don't say "soft serve", they use the word "softcream", and the softcream at Silkream is said to be the crème de la crème! The makers wanted to impress people all over the world when they created this delicious softcream and based on all the reactions on social media they've certainly achieved that. Everyone who has tried their premium softcream in Shibuya has been raving about the taste and they've been urging everyone to try a cone if they're in Tokyo.
Most soft serve ice-cream has 8% milk fat content but this softcream has 12.5%. It's made with Hokkaido milk and 25% is heavily whipped cream giving it a silky and creamy texture as well as a milky taste. Their cones are also incredibly good because they're made from the same recipe as the buttery langues de chat cookies.
A single cone costs ¥515 but there are also dessert options such as their Chocolate Fondant, Mango and Passionfruit Parfait and Mascarpone Cheese and Espresso Crêpe. These decadent alternatives cost a little bit more but they're also well-worth trying if you have a really sweet tooth.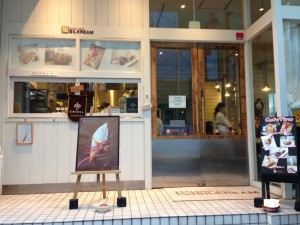 All photos are courtesy of Yelp.