Recently in Japan, all-you-can-eat buffets have become very popular. If you've ever eaten at this type of restaurant you'll know there is often a wide variety of dishes on offer but the quality of the food may be dubious and you rarely walk out at the end of the meal saying "That was delicious". If you've read my Guide to Eating Out in Tokyo, you'll know I'm a big fan of restaurants located inside the major hotels in Japan and this is where I'd recommend you go and eat if you're looking for a sumptuous all-you-can-eat buffet.
I've done all the research for you and below are four of the best buffet restaurants in Tokyo, where you'll get value for money and you'll really enjoy the meal. You'll pay a bit more than the ¥1,000 per person offers at some of the lesser-known restaurants scattered throughout Tokyo, but you'll definitely enjoy the food much more at these slightly more expensive restaurants and to make the experience even more special and gratifying, I guarantee you'll be eating in much more pleasant surroundings.
1. "THE GARDEN LOUNGE" & "THE SKY" at HOTEL NEW OTANI TOKYO
Hotel New Otani Tokyo is my number one choice because this hotel offers two very different types of buffets – a sandwich buffet and an international buffet on the 17th floor. As well as this, "The Garden Lounge" offers a breath-taking view of a 400 year-old Japanese garden (see photo below) and "The Sky" restaurant rotates for an impressive panoramic view of Tokyo.
Although "The Garden Lounge" only offers a sandwich buffet, tea and coffee are included and if you have a sweet tooth you'll love Chef Patissier Shinsuke Nakajima's seasonal desserts.
Sandwich Buffet: ¥3,800 (11:30 – 2:00pm)
"The Sky" restaurant at Hotel New Otani Tokyo offers one of the best vantage point for taking in the impressive night lights of Tokyo with a revolving 360 degree view from the 17th floor. You also have a choice of Teppenyaki, sushi, Chinese and Western cuisine. "The Sky" has introduced what they like to call a "Totally New Concept" where you can design and create your own dish. You just choose the ingredients and their expert chefs will cook your meal exactly the way you like it.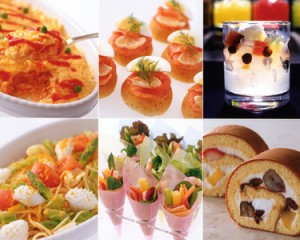 Lunch: ¥5,250 (11:30am – 2:00pm)
Dinner: ¥8,400 (5:30pm – 9:00pm)
Closest train station: Akasaka-Mitsuke Subway Station (Tel: 81 33238 0028)
2. "MUSASHI" at THE ASAKUSA VIEW HOTEL TOKYO
Number two on the list has to be "Musashi" which opened in May 2012 to commemorate the new Tokyo Skytree (the tallest structure in Japan at 634 metres). From the restaurant you have great views of the tower and on the other side of the hotel you can view Mount Fuji on a clear day. There are more than 50 dishes on offer, including Japanese, Chinese and Western cuisine and the prices are reasonable.
Breakfast: ¥2,194 (7:00 -10:00am)
Lunch: ¥3,234 (11:30 – 2:45pm or 3:00pm on weekends)
Dinner: ¥4,389 (6:00pm – 9:30pm)
Closest train station: Asakusa Station (Tsukuba Express) (Tel: 81 33842 3751)
3. "GLASS COURT" at KEIO PLAZA HOTEL TOKYO
The "Glass Court" located in the main tower on the 2nd floor of the Keio Plaza Hotel Tokyo made the list because of its popularity. The hotel highly recommends that you make a reservation if you'd like to eat at this buffet restaurant. They also have child prices but that is only for children of primary school age. The Super Buffet includes Japanese, tempura, sushi, Chinese, Korean and Western cuisine.
Weekdays
Breakfast: adult ¥2,900 child ¥2,200 (7:00am – 10:30am)
Lunch: adult ¥3,500, child ¥2,500 (11:45am – 3:00pm)
Dinner: adult ¥5,400, child ¥3,100 (5:30pm -9:30pm)
Weekend
Lunch: ¥3,900 (no child prices) (11:45am – 3:30pm)
Dinner: ¥6,400 (no child prices) (5:00pm – 10:00pm)
Closest train station: JR Shinjuku Station (Tel: 81 3 3344 0111)
4. "THE IMPERIAL VIKING SAL" at THE IMPERIAL HOTEL TOKYO

The Imperial Hotel's buffet at "The Imperial Viking Sal" is last on the list because of the steep prices but you'll be eating in style, you'll enjoy a delicious meal and you'll be eating at what many people believe is Tokyo's best 5 star hotel. The reason it made the list is because their all-you-can-eat buffet is based on the first buffet dining restaurant in 1953 and also because it has a spectacular assortment of dishes including appetizers, fine hot entrees, soups, salads, roasts and desserts and most of this is prepared in front of you. They also have child prices for children up to 12 years-old. This is exactly the kind of place you would take a very special person to honour an important occasion and to eat in grand style. Breakfast includes both Japanese and Western dishes but Western-style cuisine is served for lunch and dinner.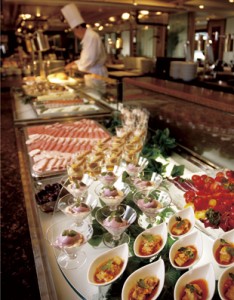 Weekdays
Breakfast: ¥3,400 (7:00am – 9:30am)
Lunch: ¥5,500 (11:30am – 2:30pm)
Dinner: ¥8,200 (5:30pm – 9:30pm)
Weekends
Breakfast: ¥3,800 (7:00am – 9:30am)
Lunch: ¥6,000 (11:30am – 2:30pm)
Dinner: ¥8,700 (5:30pm – 9:30pm)
Children
Breakfast: ¥2,300
Lunch: ¥3,600
Dinner: ¥5,300
Closest train station: Hibiya Station (Tel: 81 33539 8187)
Please note a service charge may be added to your bill at any of the above restaurants.

All prices may differ to the prices on the hotels' websites. I've spoken with a representative from each restaurant and the prices listed above are up-to-date.