The audiobook for TOKYO HEARTS: A JAPANESE LOVE STORY is now available to buy from Amazon and Audible. You can listen to the book for free if you subscribe to Audible.co.uk or Audible.com. Once you download the audiobook, you can listen to it on your smartphone, tablet, mp3 player, or laptop.
If you have never listened to an audiobook before you will be very pleasantly surprised. The narrator, Billie Fulford-Brown, has done a wonderful job! Billie uses world-class voiceover techniques. She has a lovely tone, her character voices are remarkable and very entertaining, and her delightful theatrics really brings the book to life!!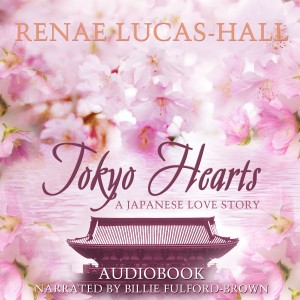 Haruka and Takashi are devoted to shopping and going out in Tokyo. She loves her Louis Vuitton handbags, Hermès scarves, and Louboutin shoes. He enjoys eating out and looking through the department stores in Ginza and Shibuya. Together they make a cute couple, but love is never easy.
Takashi's world starts to turn upside down when he realizes Haruka has started seeing Jun, her wealthy ex-boyfriend from Kyoto. When Haruka travels to Kyoto to meet up with Jun and his mother, a series of earthquakes hit Tokyo, and Takashi is injured. Haruka is unable to contact him, and it looks like she'll never see Takashi again – the boy who truly loves her.
Filled with cultural significance, this story will appeal to listeners who have an interest in Japan and the mind-set of the Japanese people.
Listen to a 3 minute sample of the audiobook for TOKYO HEARTS: A JAPANESE LOVE STORY
BILLIE FULFORD-BROWN IS THE NARRATOR FOR THE TOKYO HEARTS AUDIOBOOK
Billie Fulford-Brown (pictured below) has done an absolutely amazing job as the narrator for the book. Billie is a London based voice over artist and actress. Over the last few years she has voiced many audiobooks for Audible, commercials for My Little Pony, Hello Kitty, Zoosk and Movie Star Planet, as well as completing many corporate videos and on hold messages for companies like The NHS, Universal Music, Devon County Council and Pizza Hut.
As an actress she has performed in theatres both in London and Edinburgh and she has worked with Sony Pictures, the BBC and many more.