My second book Tokyo Tales: A Collection of Japanese Short Stories with illustrations by Yoshimi Ohtani is now available to buy as an eBook from Amazon Kindle, iBooks and Kobo and more than sixty other retailers.
These short stories were honestly a delight for me to write. There are fifteen stories in total inside the book for you to enjoy and of course all of them have links to Japan. A lot of the themes are based on actual cultural and sociological situations which are very current and prevalent in Japan at the moment, so I hope you'll find each story even more interesting because of their direct links with issues faced by Japanese society at this time. However, each story is fictional and not one of them is based on any particular situation or person in Japan or elsewhere. I enjoyed every moment of the writing process for this book and I hope the end result will provide hours of enjoyment for you, my readers, as you turn each page and finish each story.
As an added bonus, the very talented and popular Japanese illustrator Yoshimi Ohtani from ARTas1 has designed a gorgeous image for the cover. You'll also discover many more of her fabulous colour illustrations inside the eBook.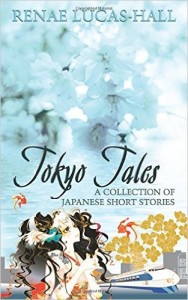 This collection of short stories was inspired by a conversation I had in 2012 with Katie Adler, an American narrator voice over talent in Tokyo, Japan. Katie regularly hosts a live show podcast and I felt very privileged to be interviewed by her for one of her shows a couple of years ago. During the interview, we talked about the idea of a ghost story set in Japan and I promised to write a spooky story for her Halloween podcast. Later I realised I could add this story to a collection and publish this as a book – so thank you Katie for giving me the inspiration to create Tokyo Tales. You can read the spooky story called The Lucky Bar in Nihonbashi for free on my website.
Last but not least, I wanted to share a quote with you from the very famous Japanese author Haruki Murakami. This quote really resonates with me and I hope it tells you a little bit more about how I felt creating and writing Tokyo Tales: A Collection of Japanese Short Stories.
"My short stories are like soft shadows I have set out in the world, faint footprints I have left. I remember exactly where I set down each and every one of them, and how I felt when I did. Short stories are like guideposts to my heart…" – Haruki Murakami