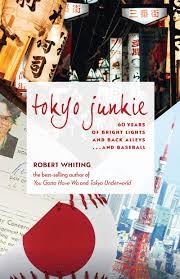 Robert Whiting is a talented and fascinating writer addicted to Japan. He has lived and worked as a journalist in Tokyo on and off for more than fifty years. His memoir 'Tokyo Junkie' begins in 1962 when Japan was transforming itself on a monumental scale in preparation for the Tokyo Olympics. The pages in-between cover a plethora of captivating subjects relating to the capital and the colourful characters who live there, as well as his own experiences in the Land of the Rising Sun. His final thoughts dwell on the recent Olympic Games in Tokyo in 2021 and the effects of Covid-19 on the Japanese people and the businesses that thrive on the streets and alleyways in Tokyo.
Whiting is a humble man, saying more than once he believes he lacks an understanding of the finer points of Japanese culture, for example tea ceremony, but this book proves he has an all-encompassing understanding of society, culture, politics, sport and religion in Japan. He writes on a variety of subjects including the prevalence of Shintoism and attitudes towards Christianity, giving examples of why Shintoism is so ingrained in everyday life. He describes the four seasons in Japan on page 206 with poetic charm and shares snippets of history to enthral the reader. On page 89, he explains: "The name Ochanomizu literally means "water for tea" and references the Kanda River from which water was extracted to make the shogun's tea during the Edo period". He also quotes haiku by Issa, the 18th-century poet, on page 25:
" 酒好きの蝶なら来よ角田川 (If you're a butterfly that likes to drink, come down here to the Sumida River)."
The above quote is one Whiting would appreciate more than most. He reveals he's partial to a few drinks and he regularly makes an appearance at the Foreign Correspondence Club of Japan where he serves on the Board of Directors. He says BBC correspondent John Morris once described this place as "a waterfront sailors' bar and a brothel" (pg. 321). However, Whiting points out the FCCJ is an ideal place for any writer, including himself, to source excellent writing opportunities and it's the perfect club for networking with other journalists.
Whiting admits he finds himself drawn towards the "low end" of Tokyo when he's not thinking of or writing about his favourite sport, baseball. He has always been intrigued by the sordid underbelly of city life and the seedy people who live, work and play there like the yakuza, gamblers and hostesses. He likes to write about illegitimate or quasi-criminal and fraudulent activities that lay just below the surface of polite society in Tokyo. This has landed him in trouble on more than one occasion. He almost became involved in dealing firearms with the yakuza and at times he has been afraid of being pushed in front of a train in a Tokyo subway station by a chinpira for offending a yakuza boss he mentioned in his other book 'Tokyo Underworld'!
Whiting's love of Tokyo and the people who live there is ever-present in this book. He mentions everyone who has touched his heart and helped him when he needed it most, like the elderly lady who worked in the kiosk in front of Shibuya Station. She provided a bed and breakfast for him when he missed the last train home. Or Kazuhiko Kusaka-san who found him lodgings, acted as a rent guarantor, and escorted him around the temples, shrines and old-fashioned shops in his local area, helping him to assimilate into the Japanese way of life.
One minute Whiting is explaining sumo wrestling is a difficult sport with a long tradition and on the next page he'll share a story about a romantic date like his involvement with a young girl called Chako, the daughter of an izakaya owner. But it's his love for his wife Machiko that leaves the greatest impression. He writes about her with the utmost respect and fondness. He describes her as "educated, cultured and intelligent (pg. 195) . . . the beautiful, clear-eyed wife (pg. 369)" who refuses to move to New York because she wants to make it clear she's interested in him and not his passport. His passion for Tokyo is also reiterated repeatedly. He loves "the honesty of the average Tokyo-ite (pg. 353) and he likes the way "Japan was a place where it simply wasn't necessary to win every argument – or even argue at all, for that matter" (pg. 287).
Whiting is a captivating writer. His style is void of unnecessary adverbs and superlative adjectives and he is direct, candid and sincere on every page. His descriptions of Tokyo make the reader want to move to this enticing capital or at least visit the city for an extended period. He says "I like the incredible energy, the activity, the politeness, the orderliness, the cleanliness, the efficiency, the trains that always arrive on time, the mix of neon lights, the charm, and the uniqueness of it all." (pg. 77)
This book is like a multi-faceted diamond with each prism refracting a unique light on each subject at hand. In the past decade, many Westerners have visited Japan as tourists and it has become one of the world's most popular destinations. Tokyo is now home to more than 500,000 foreigners. Many people strive to understand the real Japan. They give up realising there are so many layers to the culture and levels in society and it would take years to fully comprehend. In less than 400 pages, Whiting's memoir provides the answers to the many questions that need answering in order to understand the Japanese and their customs. This is possible because he opened his heart to the Japanese people and their culture many years ago when he was stationed in Japan, unlike most of his fellow soldiers. This is a brilliant memoir, I highly recommend it, and I'm looking forward to reading more of Whiting's books in the future.