Ginza is famous for being one of the most expensive shopping areas in the world and you won't have any trouble finding the most elite Japanese and Western fashion houses in this exclusive area. However, despite the fact hundreds of people from all over the world spend trillions every day in this fascinating shopping district and even I like to admire the latest fashions from the best designers just as much as any other woman, I'll often walk straight past the big brands and head directly to my favourite shop in Ginza called Kyukyodo, whenever I'm in Tokyo. This wonderful store opened in Kyoto in 1663 and in Tokyo in 1880 and it's still run by the Kumagai family to this day. I believe it stocks the finest and most accessible selection in Japan of modern and traditional stationery as well as postcards, handicrafts, writing instruments, calligraphy supplies and high-end incenses.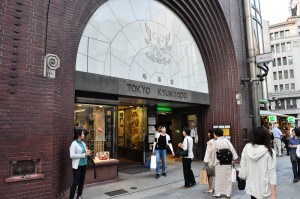 You won't find designer threads, sparkling jewels or fancy accessories in Kyukyodo, but you will feel a sense of tradition as well as a well-developed respect for these traditions and the essence of Japan as you browse through the first and second floors of this marvellous shop.
You might think I'm a bit old-fashioned if I admit I prefer to send and receive letters via the postal service, but I think a lot of people would agree with me when I say it's so much nicer to receive a hand-written letter on a pretty piece of paper rather than a rushed email sent straight to my inbox.
So if you're planning to visit Tokyo or you live near Ginza, take the time out to visit Kyukyodo and I'm sure you'll leave with the same sense of awe and wonder that I experience every time I walk out of this lovely store, after seeing such beautiful Japanese paper goods and handicrafts on display.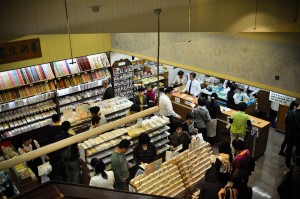 Kyukyodo is located at 5-7-4 Ginza, Chuo City, Tokyo, not far from the Matzuzakaya department store in Ginza.
(Images of Kyukyodo courtesy of Alex Kwa)