I'd like to introduce you to the renowned Japanese Illustrator Yoshimi Ohtani from ARTas1. I'm very lucky and truly honoured to present Yoshimi Ohtani's illustrations on the cover and throughout my latest book Tokyo Tales: A Collection of Japanese Short Stories.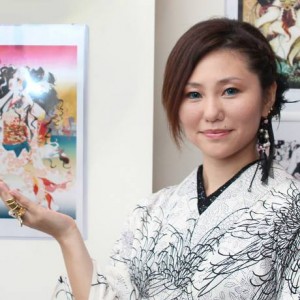 Yoshimi Ohtani was born in Tokyo, Japan in 1980. In 2005, a great desire for creation came over her, and so she began illustrating and refined her passion, establishing a new style for her work using illustrator software. In the Spring of 2008, she asked herself "what do I want to create?" This thrust her toward focusing her craft even further and she decided to launch a website joining the words "fun-" and "-arium"… "Funarium" and she began to focus on fine art exhibitions. "I draw my scenes with an emphasis on 'fun' while creating eye-catching girls who embody the essences of both Japanese and Western style and "Goth-Loli" fashion."
Yoshimi Ohtani's creations combine a traditional mindset (iki) with a sense of modern Japanesque "passive demeanor" (wabi), an "elegant simplicity" (sabi), and a "classic taste" (kare). The results give fascinating characters that are a hybrid of Japanimation/manga-comics and design/artistic expression. Today, Ohtani's works can be found in book cover designs, interiors of restaurants/bars, magazines, in video game music videos, cell phone icons and cases, and more.
If you'd like to work with Ms. Yoshimi Ohtani and purchase her stunning illustrations for your own project please visit her page on the ARTas1 website.
Below is one example of the many wonderful illustrations by Yoshimi Ohtani you'll discover inside Tokyo Tales: A Collection of Japanese Short Stories. This image truly complements the first story, entitled My Cute Kawaii Boutique, which tells the tale of a young girl called Kimiko-san who is embarking on her own journey of self discovery. Kimiko-san is determined to unleash her individualism and personal creativity when she begins working as a sales assistant at a popular Harajuku boutique.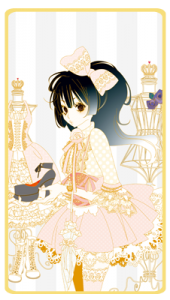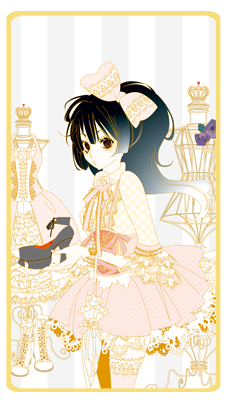 The "Kawaii" culture has become a global phenomenon. Young girls all over the world are experimenting with imaginative Harajuku styles. So if you love the Lolita, Gyaru, Ganguro, Gothic Lolita and Fairy Kei styles then this story will definitely appeal to you. If you're seeing these Japanese street trends for the first time, allow me to introduce you to a whole new world where you may just feel like Alice in Wonderland and you're at risk of falling down the infamous rabbit hole to a place you would never have imagined could exist until now.
There are fifteen short stories in total inside Tokyo Tales: A Collection of Japanese Short Stories for you to enjoy and many more illustrations by Yoshimi Ohtani for you to appreciate. Visit Amazon.com to get your very own copy of the eBook on Amazon today.