My husband and I went to London to watch the coronation of Charles III and Camilla and the procession on the 6th of May and I'm so pleased we had time to see the Kumihimo Japanese silk braiding exhibition by Domyo at Japan House London on the same day.
Kumihimo is an intricate, decorative braided cord from Japan. This fascinating UK exhibition runs from 23 February until 11 June 2023, exploring this ancient yet contemporary Japanese art.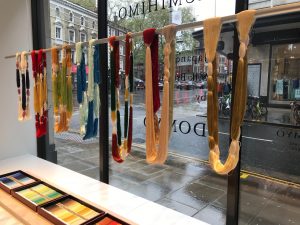 Literally translating as 'joining threads together', kumihimo is characterized by its vivid colours and intricate patterns, and is created by expert craftspeople who combine up to 140 hand-dyed threads, often made of silk.
KUMIHIMO: Japanese Silk Braiding by  brings the story of Japanese braiding to life with floor-to-ceiling installations, absorbing video, creative displays of equipment and tools, and more than 50 different examples of the braids themselves, imaginatively presented throughout the gallery.
The exhibition is divided into three sections:
1. The History of Kumihimo, which explores its 1300-year past from the Silk Roads to samurai and kimono
2. The Structure of Kumihimo, which allows guests to get up close to the processes and fine details of the individual braids
3. The Future of Kumihimo, which encourages guests to join in the discussions on future kumihimo possibilities in fashion, fine art and science
The exhibition is produced by Yusoku Kumihimo Domyo (Domyo), a company located in the old shopping and entertainment district of Ueno in central Tokyo, which has been making braided silk cords by hand since 1652.
WORKSHOP
An Introduction to Kumihimo Braiding 組紐ワークショップ
Japan House London is also offering a beginners' workshop and an introduction to Kumihimo braiding for just £9 per person. You need to book because there are only 5 places per session. I just wish I lived closer to London because I'd love to attend this.
During each small-group workshop, led by the Japan House London Visitor Experience team, participants can gain an understanding of the basic principles of kumihimo while creating a braided cord using silk threads and a marudai, a round braiding stand mounted on legs that makes it easy to braid a variety of kumihimo, even for beginners.
Japan House London is a fantastic cultural destination in London for anyone interested in Japan. Located on the corner of Kensington High Street and Derry Street, within a two-minute walk from High Street Kensington Station, Japan House London offers the very best of Japanese art, design, gastronomy, innovation, and technology.