The Tale of Genji or 源氏物語, Genji Monogatari in Japanese is a very famous book written by a noblewoman and lady-in-waiting called Murasaki Shikibu during the Heian period (794 to 1185). Every Japanese person has read at least a part of this book and studied it at some point in their lives but it's also been recognised as a valuable and significant piece of literature in the West and it's often included on the reading list for Japanese studies at universities overseas.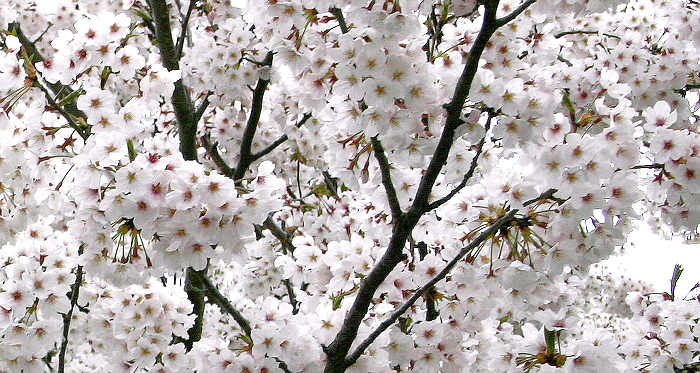 I read the translation by Royall Tyler and I can say, hand on heart, The Tale of Genji is the most romantic book I've ever read. Not only that, every story within the story was an absolute pleasure to read despite the fact this book has 1,224 pages. If you're wondering whether this book is worth reading, I can promise you this world-renowned literary masterpiece will gently caress your imagination and carry you away to a time and a place where both your mind and your soul will be equally charmed and enchanted.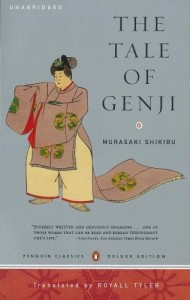 I consider myself to be a 桜人 (sakurabito), an old word that became popular in the 11th century to describe people who love cherry blossoms, so you can imagine just how much the poems and the descriptions of cherry blossoms and plum blossoms throughout the book really appealed to me.
Cherry blossoms represent the transient nature of life. Unfortunately, my father passed away from mesothelioma (a type of cancer caused from exposure to asbestos) in his mid-fifties, so I learned at an early age that death is inevitable, life is very precious and we need to appreciate our short time on this beautiful Earth. Cherry blossoms are a fleeting joy and many of the themes throughout The Tale of Genji are an example of this bittersweet impermanence. This reflection on passing whims and placing value on what is really important to us certainly gives you pause for thought.
The perfect time to read these cherry blossom quotes would be at a hanami party (cherry blossom viewing party) with friends as you sip on plum wine or sake, eat Japanese delicacies and look up at the surrounding blossoms.
I really hope you enjoy each and every one of the cherry blossom and plum blossom quotes below and if they appeal to you as much as they captivated me then you'll really love reading The Tale of Genji. You can read more about the sakura season in my blog post "The Importance of Cherry Blossoms in Japan in the 21st Century".
1. "The cherry blossom season was over, but two of His Excellency's trees must have consented to wait, for they were in late and glorious bloom."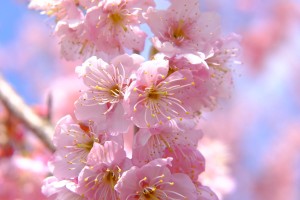 2. "Mist trailed through a garden pale beneath thinning branches, to merge here and there with the blossoms and yield a scene more beautiful than any autumn night."
3. "Quite apart from these weighty hopes of mine, I should like to indulge in the pleasures of the seasons—the blossoms, the autumn leaves, the changing skies. People have long weighed the flowering woods in spring against the lovely hues of the autumn moors, and no one seems ever to have shown which one clearly deserves to be preferred. I hear that in China they say nothing equals the brocade of spring flowers, while in Yamato speech we prefer the poignancy of autumn, but my eyes are seduced by each in turn, and I cannot distinguish favorites among the colors of their blossoms or the songs of their birds. I have in mind to fill a garden, however small, with enough flowering spring trees to convey the mood of the season, or to transplant autumn grasses there and, with them, the crickets whose song is so wasted in the fields, and then to give all this to a lady for her pleasure."
4. "How poorly mere words convey the exquisite beauty of the gardens of his ladies! The one before the spring quarter, where the scent of plum blossoms mingled with the fragrance within the blinds."
5. "The keepsake fan was a triple cherry blossom layered one with a misty moon reflected in water…he wrote on the fan, 'All that I now feel, I have never felt before, as the moon at dawn melts away before my eyes into the boundless heavens.'"
6. "Willows trailed bright green fronds and blossoms cast ineffable perfumes upon the air. The cherries that were gone elsewhere smiled here in all their beauty, and the wisteria twined about the galleries opened into deep-hued clusters"
7. "Over grape-colored gathered trousers he wore a cherry blossom train-robe, very long behind, and the easy poise of his bearing left a brilliant impression. Meanwhile, His Grace of Rokujō in a cherry blossom dress cloak of light Chinese twill over a plum-red gown, displayed a casually imperial grace more indescribable than ever."
8. "She made a figure so beautiful and so perfect in size that she seemed to perfume all the air around her and, to express it in terms of flowers, to put even cherry blossoms to shame."
9. "A sprinkling of snow fell to confirm that spring was not far away and plum buds swelled on the bough."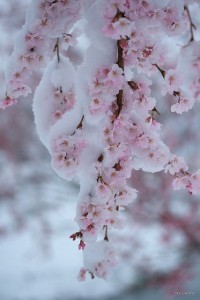 10. "When mist prettily veiled the trees in flower and others yet to bloom, a warbler appeared in that favorite red plum tree, singing splendidly"
11. "Elsewhere the single-petaled cherry blossoms fell, the doubles faded, mountain cherries bloomed, and the wisteria colored, but she had known precisely which flowers blossom early and which late, and she had planted them accordingly for their many colors, so that in her garden they all yielded their richest beauty in their time."
12. "O that I had sleeve enough to cover the wide sky! No wind should then take the flowers that blossom in spring."
13. "There are flowers on my cherry tree! I will not let them fall, ever! We must put up a curtain all round them—that way the wind will not get at them!" the little Prince announced very proudly. The sweet look on his face made Genji smile. "That is a much better idea than trying to find someone with sleeves wide enough to cover the sky,"
14. "It is true, as they say, that the blossoms of spring are all the more precious because they bloom so briefly."
15. "Beneath a sky veiled far and wide by the mists of spring, some cherry trees were shedding their petals while others were just coming into bloom, and one admired along the river a lovely prospect of wind-tossed willows reflected in the stream. His Highness of War, unaccustomed to such sights, was struck with wonder and found the scene very hard to leave."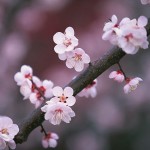 16. "He ordered a beautifully flowering branch picked and had it presented by a handsome privy page in his service. The note said, "I have come to you seeking in all their beauty mountain cherry flowers, and I myself have plucked a spray to set in my hair."
17. "The blossoms were at their height, and the spring haze made a lovely view in all directions, inspiring them to compose verse after verse in Chinese and Japanese;"
18. "How I should love just to be with you always like this, enjoying with one heart the moon or the blossoms and sharing observations on this passing world."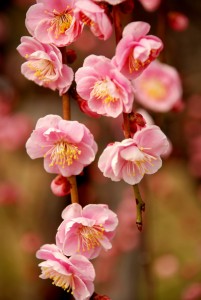 19. "Yes, the cherry trees put this truth very plainly: none of the glory of blossoms and autumn leaves lasts long in this fleeting world."
20. "The red plum in the garden was so lovely in color and scent that even the warblers seemed unable to pass by without a song,"
21."Soon all will be gone, who loved them, and leave to storms this mountain village where the plum tree in full bloom with its scent calls back the past."