Kawaii is a Japanese word used to describe anyone or anything that looks really cute. Thousands of young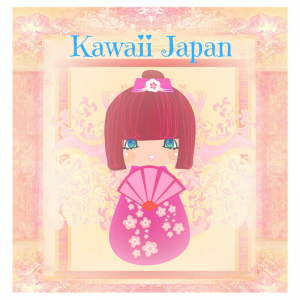 girls (as well as some boys and quite a few not-so-young women) from all over the world are embracing the kawaii culture and they're flocking to Tokyo to indulge themselves in every aspect of this adorable craze. The kawaii culture, which originated in Harajuku, has now become so popular the word kawaii is being used in English by teenagers all over the world as well as fashionable companies to target consumers with their latest on-trend products and services.
Top international fashion and cosmetic brands are also using the word kawaii in their advertisements as a buzz word to describe items or features that are exceptionally cute or flattering.
There are lots of other adjectives that spring to mind when I think of anything kawaii in Japan such as sweet, endearing, charming, whimsical, sensational, fantabulous, stimulating, and even mind-boggling.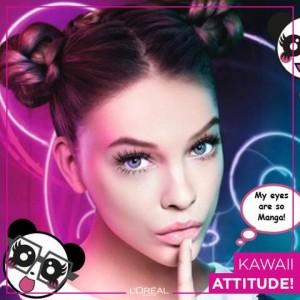 If you think you're too old for anything kawaii then think again! It doesn't matter what age you are because there are lots of variations on the kawaii style in Tokyo's shops and department stores and some of these items are so stylish you're sure to find at least a few kawaii accessories you won't be able to resist. There are also plenty of eye-popping kawaii experiences in Tokyo that will definitely broaden your smile and keep you entertained.
So, I think you can pretty much visualize the meaning of kawaii, but if you want to find out more then check out my top 20 hotspots in Tokyo for kawaii cuteness below.
KAWAII SHOPPING
1. Takeshita Street in Harajuku: This is usually the first point of call for kawaii fans. It's a pedestrian street near Harajuku Station and it's full of kawaii shops, restaurants, cafés and creperies. As you walk along this hugely popular street you'll see people holding signs outside some of the shops offering discounts for that day so make sure you check out these stores first. By the way, Takeshita Street and the Harajuku area were the main inspiration for the song Harajuku Girls by Gwen Stefani so if you're a fan of this music and all it represents then you'll love this crowded, fun-filled shopping mecca, devoted to everything kawaii.
2. Shibuya 109 in Shibuya and LaForet in Harajuku: Both these department stores are full of boutiques stocking kawaii fashions and accessories but the prices here can be quite a bit higher than Takeshita Street in Harajuku. Keep in mind you're paying for quality.
3. 6% DOKIDOKI: This shop is the brainchild of the famous Art Director Sebastian Masuda. This store is located in Harajuku and it's full of kawaii merchandise. They also have a Facebook page and an online store with worldwide shipping!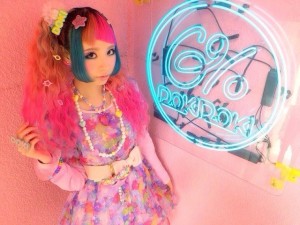 4. Hello Kitty store in Tokyo Solamachi: We all know the Hello Kitty brand but you'll be amazed by just how much more there is to the range of Hello Kitty merchandise when you visit their store in Solamachi (a shopping complex adjacent to Tokyo Skytree).
5. Kiddyland (Harajuku): Yes, the name of this shop includes the word "kiddy" but some adults will also love to browse in this store. There are all sorts of fun toys  and a startling array of kawaii tat here but you're sure to find some cute accessories no matter how old you are.
6. Cute Cube Harajuku: Located just a few minutes from Harajuku Station on Takeshita Street, this mini complex has a variety of kawaii shops and restaurants. Kawaii events also take place here.
7. Disney store at Harajuku ALTA building: The ALTA building opened in 2015 on Takeshita Street in Harajuku. It houses lots of top fashion brands and stores offering character merchandise. Here you'll find the famous Disney store selling all your favourite Disney characters (please note this shop does not sell tickets to Tokyo Disneyland or Tokyo DisneySea).
8. Harajuku and Shibuya Kawaii shopping tour: An expert guide from Voyagin or Expedia will take you to all the kawaii fashion hotspots in Harajuku and Shibuya. These are the perfect tours for fashionistas and Tokyo first-timers who love to shop!
KAWAII RESTAURANTS AND ATTRACTIONS
9. Moshi Moshi Box Harajuku: This should be your first stop if you're not really familiar with the main shopping areas and attractions in Tokyo. This tourist information box also offers foreign exchange, free Wi-Fi and even a crepe stand. You'll find it on Meiji Dori, not far from Harajuku and Meiji-jingumae Stations. Just look out for the huge kawaii clock on the front designed by Sebastian Masuda (yes, he really is the kawaii king).
10. Sanrio Puroland: I know, you guessed it, of course there's a kawaii land in Tokyo and it's called Sanrio Puroland. You and your children will be mesmerized by the kawaii shows and attractions inside this complete world of cuteness. I'm planning to visit this land just for the kawaii gift shops! My tip is to print out the discount vouchers on their website when you're planning your visit.

11. Alice in Wonderland restaurants: There are five Alice in Wonderland restaurants in Tokyo, each with a different concept but the same theme, and they're all run by Diamond Dining. The food is not 5-star quality at these restaurants but who cares when you're being served by waitresses in Alice costumes, ordering from pop-up picture menus, and eating food in the shape of Alice in Wonderland characters. Choose from Alice in a Labyrinth in Ginza, Alice in a Fantasy Book in Shinjuku, Alice in a Magical Land in Nishi-Shinjuku, Alice in an Old Castle in Minami-Ikebukuro, and Alice in a Dancing Land in Shibuya.
12. Kawaii Monster Café: Another Sebastian Masuda concept, their website says it all: "Upon entering, you'll walk through the tongue of Mr Ten thousand chopsticks (choppy) and then come across the cake shaped merry-go-round "SWEETS GO ROUND" and also the 4 unique areas called "MUSHROOM DISCO", "MILK STAND", "Bar Experiment" and "Mel-Tea ROOM"!"
I think you get the picture! This place is ultra-kawaii with extra super-duper kawaii on top!

13. Maid cafés in Akihabara: This one is for the boys but it's also popular with otaku manga and anime fans! If you like the idea of your food served to you by young Japanese girls in sexy French maid costumes then this is the place for you. These enthusiastic waitresses will even play games like rock-paper-scissors (or jan-ken-pon じゃんけんぽん in Japanese) with you and sing cute kawaii songs. Oh dear!!
14. World Project Kawaii Café: This café hopes to spread kawaii cuteness all over the world. You can enjoy pancakes and other delicious dishes here. They're located in the ALTA building in Harajuku and they're happy to host parties and events.

15. Kawaii cake shops: There are hundreds of extremely good cake shops in Tokyo offering mind-blowing cake creations. I recommend La Terre Saison in Futakotamagawa, Juchheim Die Meister in Ginza, Anniversary in Minami-Aoyama, and Funs in the Hikarie complex in Shibuya.
16. Tokyo Disneyland and Tokyo DisneySea: Yes, it's true – the Disney theme park franchise is also in Tokyo. However, before you go to any of the Disney attractions you should know that it might not be everything you're expecting. Nearly all of the attractions at both theme parks are in the Japanese language. Don't worry, I promise you rides like Space Mountain are still as exciting as ever but you have to be prepared to queue for hours. Tokyo DisneySea is definitely worth a visit just based on the fact it cost 335 billion yen and it took two years to construct.
17. Kawaii nail manicures: Do you love having a manicure but you're really tired of the same block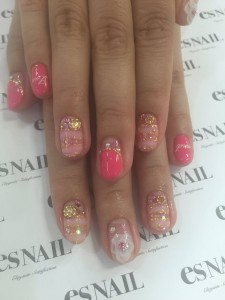 colour or even the popular French manicure? Well, the manicure salons in Tokyo will fulfil all your wildest manicure dreams. They'll even stick all sorts of famous characters on to the top of your nails. Have you ever wanted Minnie Mouse on the end of your ring finger? Yes, you can get that at a nail salon in Tokyo. What about a doughnut on the end of your pinkie finger? Yes, they can do that too! ESNAIL (esネイル) has five manicure salons in Tokyo in Shibuya, Shinjuku, Ikebukuro, Roppongi, and Kichijoji.
18. Transform yourself into a Lolita princess: If you absolutely adore the kawaii culture then Maison de Julietta in the LaForet department store in Harajuku will completely transform you into a Lolita for the ultimate cute kawaii photo shoot. They have an extensive range of about thirty kawaii outfits to choose from and you can even borrow a wig to enhance your Lolita look. Their basic menu which includes dressing up like a Lolita with hair and makeup costs 9,980 yen.
19. Kawaii photo booths: Recently, you may have seen photos of lots of Japanese girls on social media with unusually large eyes and perfect features, set in frames with all sorts of kawaii add-ons like bows and stars as well as popular characters like Hello Kitty. These girls are using apps on their phones or going to photo booths (called purikura in Japan) to make themselves look really cute with the help of all sorts of feature options that can completely change the way you look and increase your kawaii appeal (see the before and after shots in the pictures on the left). It's important to know that a lot of these girls may look young but they could easily be a lot older than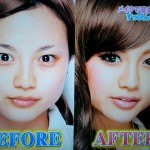 they seem and they could look very different in real life! After they've completely transformed their facial features they can turn these photos into stickers. The photo booths have a game type setup that's very easy to use. You too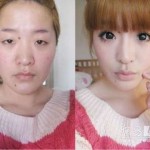 can find these purikura booths in the ALTA building in Takeshita Street in Harajuku and in Shibuya at the Shibuya Center Gai.
20. My kawaii book – Tokyo Tales: A Collection of Japanese Short Stories: Before you head to Tokyo for the trip of a lifetime or if you're already in Tokyo when you're reading this and you're resting in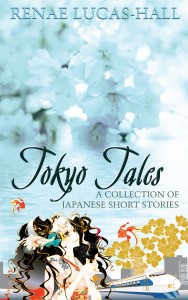 your hotel room, wondering what to do after a big day out in Harajuku, then why don't you immerse yourself in the kawaii culture and enjoy lots of Japan-related stories from my book Tokyo Tales? As you're reading each short story, I'm sure you'll also appreciate all the gorgeous and super kawaii illustrations on the cover and throughout the book by the renowned Japanese illustrator Yoshimi Ohtani. You can buy Tokyo Tales in paperback and eBook from Amazon and more than 60 other retailers worldwide. The paperback version of Tokyo Tales as well as my novel Tokyo Hearts are also available from Books Kinokuniya in Shinjuku, Japan. Happy reading!