Recently, Mustika from Indonesia was kind enough to write a review on her blog for my first novel Tokyo Hearts: A Japanese Love Story . I've been very lucky to receive some wonderful reviews from readers and book reviewers all over the world and I thought it would be nice to share a few of them with you. I really appreciate everyone who has taken the time to write such lovely comments.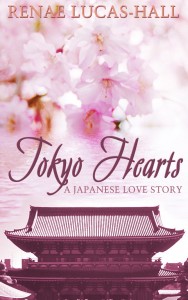 Please note: If the reviews are written in another language you'll see there is usually a translator available to convert the text into English or whichever language you prefer.
Just click on the reviewer's name to go directly to the full review.
• Mustika Permata Sari Muchtar
"I was drawn into the book and I felt very close to the beauty of Japan. Coupled with the complicated love story between Haruka and Takashi, this book will make you want to visit Japan."
"They say you should never judge a book by its cover, but Tokyo Hearts is definitely an exception to the rule. As captivating inside as it is on the outside, it is a veritable smorgasbord of cultural eloquence.
A Japanese love story for our times, it is set against the backdrop of Tokyo life with Renae Lucas-Hall skillfully weaving her plot through the very heart of a city renowned for its frantic pace of life. It will certainly garner fans from readers intrigued by Japanese culture."
• Jean Vallesteros (Jean BookNerd)

"Renae's writing style is able to channel the life of modern-day Japan into words and readers will feel like they are in the heart of Tokyo while following the lives of Takashi and Haruka. The Japanese culture is truly unique and Renae accurately captured just how amazing it is. She has delivered a story that takes readers outside of the normal trend of YA books out there and not only gives us an incredible love story, but also an amazing look into a culture that is very deep rooted in tradition. I am certain that the sequel, Tokyo Dreams, will follow the same calibre of marvellous writing."
• Sophie Carroll (Sophie's Japan Blog)
"I'd readily recommend this book to anyone who is interested in modern Japan and loves a sweet story. You really warm to a lot of the characters and empathise with them. If you've been to Japan before or seen footage of Tokyo, you'll also recognise a lot of the little details about the city. As a Japanophile and attention-to-detail kind of girl, Tokyo Hearts struck a chord with me. I strongly encourage you all to get your copy today!"
"Renae completely captures the Japanese lifestyle and day to day experiences very well. I was soo hooked i felt like i was Watching an anime. ooooooo And i can't wait for the 2nd season loolz :D! This is DEFINATELY worth the read!! Its sooo worth it i can't even fathom these feels right now. It's so amazing in every way. Specially the ending ohhh wow it was like a beautiful fairy tale ending in reality that i was moved to tears. Please Make time for this book and read it! I assure you, you won't be disappointed."
• Antonia (Whispers at Moonlight)
"Overall, Tokyo Hearts is a beautiful love story and I recommend it to you. Renae Lucas-Hall is a very talented author and I really like her writing style."
"A beautifully written and engaging love story set in Japan, Tokyo Hearts is a book to lose yourself in. The scenes are believable, the dialogue that moves the story along is warm and evocative, the characters leap of the pages. Pleased to have found it, looking forward to another release by Renae Lucas Hall."
• Alexandra Sutila (Another Books World)
"At the beginning I didn't know that I'd like this book but now , I love it. It was a peaceful and a beautiful book. Reading this book I learned a lot of things about Japan and Japanese culture."
"If I was to sum Tokyo Hearts up in one word it would be escapism. A wonderful opportunity to dive into an alternative culture. The author creates a very believable Tokyo that I found highly absorbing and left me wanting to explore Japanese culture in greater details. Bravo, an excellent novel and looking forward to more from Renae Lucas Hall."
"For us at TripFiction, this is a fabulous novel that weaves its way into the heart of Tokyo life and brings the city into sharp focus for the reader. This is a great novel for exploring frenetic Tokyo life, offering up little aspects that make Tokyo, well, Tokyo. The automatic opening of taxi doors, the young peoples' love of Western and Japanese named brands, descriptions of the kotatsu heaters that many older style dwellings still have. Pocky Sticks! The intricacies of the subway lines and the delightful examples of how the Japanese enthusiastically embrace Western words and names"
"You really feel as though you're on the fashionable streets, in the department stores, on the bullet train or even in the tiny apartments that pass as home for so many people like Takashi."
"Tokyo Hearts would make the perfect holiday read"