When I arrived in Japan to teach English for the first time over twenty years ago I was very worried about the cost of renting an apartment in Tokyo, but I was lucky to find a job in The Japan Times that provided free accommodation. At that time, Japanese companies were happy to provide free housing and waive the utility bills because English teachers were in high demand. Nowadays, it's still very difficult to rent an apartment in Tokyo, especially if you're not in full-time employment. Even if you do have a well-paid job, you're still going to need a guarantor and a lot of money for the deposit. You'll also have to cover the cost of expensive upfront fees and you'll need to prove you earn a lot more than your monthly rent payments.
These days, there are a lot more housing options available for foreigners in Tokyo so it's much easier to arrive in Japan, find fairly cheap accommodation, and take your time to look for your perfect job. This is great news for anyone planning to live and work in Tokyo. Why don't you spend a couple of months checking out this vast metropolis and exploring the city before you start full-time work? Tokyo is full of wonderful sightseeing spots, cultural attractions, shopping destinations and traditional restaurants and eateries. Save some extra money before you head to Tokyo and once you've settled into your apartment or share-house, take the time to enjoy everything Tokyo has to offer before you knuckle down and start working. If you're looking for affordable housing in Tokyo, GaijinPot have a list of private advertisers looking for roommates but there are plenty of other great options listed below to make your home-hunting a lot easier.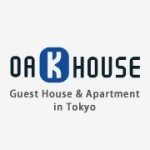 Oakhouse is one of the best realtors in Japan right now helping foreigners find accommodation in Tokyo. Oakhouse offer three types of housing: (a) social residences (b) share houses and (c) apartments.
Social residences are a very progressive, extremely modern, and up-to-date concept offering residents opportunities for cultural exchange and shared knowledge with hundreds of other qualified residents. Social residences will appeal to language teachers, cooking instructors, yoga teachers, web consultants, freelancers, and many other creatives who are willing to share their skills with other people for free in exchange for tutorials in all sorts of other areas. The social residences typically house up to 270 people and everyone shares the kitchen/dining room, bathroom, toilet, lounge, and an expansive multi-studio. The cost is typically ¥70,000 per month and locations are generally on the outskirts of Tokyo in prefectures such as Kanagawa and Saitama.
The second option, share houses, do not have the cultural and intellectual exchange option but they are slightly cheaper at about ¥60,000 per month. The share houses managed by Oakhouse usually accommodate 4 – 250 people depending on the size of the house and they are located in central Tokyo locations.
The third option, Oakhouse apartments, are about ¥100,000 per month but they house a maximum of 2 people and they offer a lot more privacy than shared accommodation.
There are a lot of advantages associated with renting through Oakhouse. For starters, no guarantor is needed, there is no key money, gift money, or agency fees. The rooms are fully-furnished with appliances, you get free internet, and you can exchange with other houses. Electricity, water, gas, internet, and maintenance fees are also included in the rental price. Also, there are English speaking staff at Oakhouse who are always happy to help you find accommodation when you arrive in Japan or even if you're arranging your stay from overseas. If you have any questions you can speak in English or Japanese to Miss Saki Tanaka at the Oakhouse office in Tokyo on +81-3-6427-3777.
Sakura House is a specialized real-estate agency in Tokyo offering comprehensive accommodation services to foreigners from all over the world and they work hard to meet the requirements for all types of nationalities.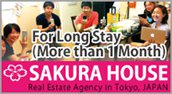 Sakura House can help you find short-term or long-term affordable and furnished apartments, share houses or dormitories just about anywhere in Tokyo. They only require ¥30,000 yen and the first month's rent so you save a lot on upfront fees. You can make advanced reservations through their website before you arrive in Tokyo.
Social Apartment offer luxury share accommodation with private rooms which are very secure. Their lounges have state-of-the-art LCD TVs and luxury furniture. Some homes even have pool tables, fitness centres and rooftop balconies. Their residents are only 20% foreign, 60% male and 40% female, and they are usually in their twenties or thirties. Screening takes at least one week and you'll need to show your passport, visa and alienation registration card. The initial lease is for six months and if there are no problems after that the lease will be extended to 1-2 years. Professional housekeeping is included and parties are organized several times a month by the residents. You can choose the amount of rent you want to pay, the area you want to live in, the size of your room and your length of stay on their website.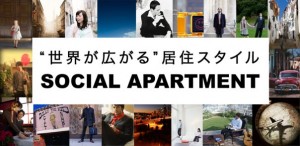 Tokyo Rent manages apartments as an owner's agent for long-term stays. You don't need to have a guarantor or pay key money and agent fees. All you have to do is fill out an application form so Tokyo Rent can work out your needs, budget and preferences in order for them to find you a suitable apartment. They will show you up to three apartments for free and then they charge ¥3,000 for every apartment they show you after that. You'll need to pay 1-2 months rent as a security deposit plus the first month's rent and also ¥15,000 for insurance. When you leave the apartment you'll also need to pay for professional cleaning. It would be a good idea to contact Tokyo Rent after you've arrived in Tokyo so you can see the apartments.
Tokyo Room Finder is a free website that will help you find a room in Tokyo for one month's stay up to a year and they can also help you find rooms where you can live with Japanese people.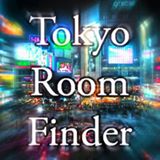 They don't require key money or agency fees and you don't need a guarantor. However, you will have to pay a deposit (from ¥10,000) and one month's rent upfront. Also, a cancellation fee will be subtracted from your deposit if you don't take the room.
Gaijin Houses are cheap and very sociable share-houses which have been popular with foreigners for several decades but they offer very basic accommodation. The gaijin houses that I saw in Tokyo when I was living in Japan had five or six separate bedrooms with no furniture and a communal bathroom. You can find these gaijin houses advertised in English language newspapers distributed throughout Tokyo such as Tokyo Notice Board. The caretaker running a gaijin house is often a Japanese person who speaks very good English but everyone staying there is usually foreign. Gaijin houses have been around for a long time and this is probably the cheapest place for a long-term stay for foreigners but they aren't usually very nice and they don't have the best reputation. You usually pay for rent on a weekly or monthly basis in a gaijin house but I need to stress again that the accommodation is generally substandard.
Airbnb and Roomorama allow you to book short-term accommodation online or from a mobile phone from anywhere in the world so you have furnished accommodation arranged before you arrive in Japan. Hosts in Tokyo advertise their apartments with photos of what you can expect and they also show the cost of the apartment per night. You can pick up a really good apartment in central Tokyo at a great price. Airbnb and Roomorama act as intermediaries. They "verify personal profiles and listings, maintain a smart messaging system so hosts and guests can communicate with certainty, and manage a trusted platform to collect and transfer payments".