Tokyo is one of the most expensive cities in the world but it's certainly possible to visit Japan's capital without breaking the bank. If you're thinking about travelling to Japan, don't be put off by stories of how expensive it is. Below are some great suggestions to help turn your dream into a reality so you'll be able to experience one of the most fascinating countries in the world.
o If you arrive at Narita airport you'll need to get a taxi, a bus or a train into central Tokyo. Never jump into a taxi, especially during peak hour because it's extremely expensive and the longer you're held up in traffic the more costly it becomes. Catching the train would be my second option but if you don't speak Japanese you could get confused when you have to change for the Yamanote Line at Tokyo Station. My number one suggestion is to get the Airport Limousine Bus. It takes about 1.5 hours to get into the heart of Tokyo but it only costs ¥3000 and the bus stops at many of the major hotels and popular areas.
o You can find some reasonably priced three star hotels in Tokyo with comfortably furnished rooms. You can always book these on the internet via websites such as expedia.co.uk but if you're backpacking or short on cash there are lots of friendly hostels or guesthouses in popular tourist areas that offer excellent and cheap accommodation. There may be a minimum age requirement and some house rules but those are there to ensure everyone has a calm and comfortable stay. The Guardian newspaper has provided a list of ten budget hotels in Tokyo ranging from ¥3,000 to ¥20,000 per night. Check it out and you'll surely find somewhere that meets your needs.
o If you love shopping but you can't afford the Ginza prices, there are other places to pick up bargains. You should head for the Nakamise shopping street in Asakusa (see picture below) which leads up to the Buddhist Sensō-ji Temple. Here you'll find souvenirs like yukatas, masks and fans etc. from about ninety different stalls. The Asakusa Cuture Tourist Information Center has just opened up next to Nakamise Street if you need tourist-related help or advice. Another great place for cheap knick-knacks is Akihabara, the district for all things electronic, and you can check out all the latest technology at the same time. If you're looking for stylish but well-priced clothing then you should head for Shimokitazawa – an area favoured by local students, artists and musicians.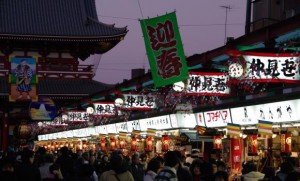 o When it comes to eating out, everyone knows food shopping certainly eats into your budget (excuse the pun – I couldn't resist that one!). You often see photos for Japan of businessmen eating in fancy Japanese restaurants served by women dressed in elaborate kimonos but Tokyo is actually a beehive of cheap dining options. Ramen, yakitori, curry houses, udon noodles, gyudon (a very popular beef on rice dish – look out for the popular Yoshinoya chain pictured below) and other cheap eateries can be found everywhere in central Tokyo. My suggestion is to stay away from business districts as well as Ginza and tourist areas like Roppongi. Instead you should head for Shibuya, Harajuku and Shimokitazawa where there are hundreds of small restaurants, bars and cafes specialising in well-priced but filling meals. You'll also find cheap eats in the food courts down in the basement of many department stores and if you're really hungry look out for the all-you-can-eat and drink restaurants which are just starting to become very popular in central Tokyo.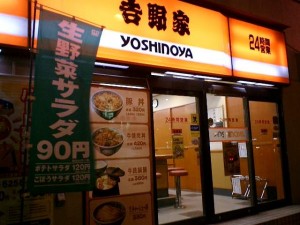 o Ameyoko Market is another great place to explore. This open-air flea market is situated under the Yamanote Line between Ueno Station and Okachimachi Station. It started out as a black market after World War II but it's now completely legitimate. The word 'Ameyoko' derives from two words 'Ameya Yokocho' meaning 'Candy Store Alley' so if you have a sweet tooth you'll love the bundles of popular candy and snacks sold at reduced prices. You'll also find American style clothing, sportswear, spices, bags, cosmetics, seafood, alcohol, brand knock-offs and cheap souvenirs and gifts at rock-bottom prices. As well as this, it's a multicultural area offering lots of very cheap places to eat and drink.
o One of the most popular tourist attractions at the moment is the view from the top of Tokyo Skytree but it costs about ¥3,000 to get to the top. Alternatively, you can get a great view of Tokyo from Tokyo Tower for about ¥1,420 which will take you up to the Special Observatory.
o One of the loveliest places to visit with free entry is the gardens surrounding the Imperial Palace (pictured below), home to Japan's Emperor. There are also lots of Shinto shrines and Buddhist temples scattered around Tokyo and entry is often free. Next to Harajuku Station is the very popular Meiji Shrine. Here you'll discover why Tokyo is a city of contrasts. The spiritual shrines and temples act as a back drop to the fast-paced and materialistic lifestyles favoured by many Tokyoites.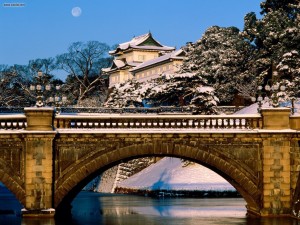 o If you're planning on visiting other areas besides Tokyo, the Shinkansen Bullet Train is an exciting way to travel. The locals often opt for an overnight bus instead. These are surprisingly comfortable and a much cheaper way to travel. You should ask your local Japan Travel Bureau (JTB) about this option.
o You should also give some thought to what time of the year you plan to visit Japan. Prices for hotels go up during cherry blossom season (early April) and New Year.
I hope these suggestions above have put your mind at ease, especially if you've been putting off a trip to Japan because you're afraid it might be too costly. Tokyo might be depicted as one of the most expensive cities in the world but I can honestly say that after living in Japan for several years and having visited the place many times, I really think you don't have to spend a lot if you want to have a great time in this enchanting country.