This year we stayed at three hotels in Japan in September: Hotel Villa Fontaine Kudanshita in Tokyo, Hotel Cypress Karuizawa and the Radisson Hotel Narita which is located about 30 minutes from Narita Airport. All three hotels surpassed our expectations so if you're planning a trip to Tokyo or Karuizawa and you're not sure where to stay I can highly recommend these hotels.
HOTEL VILLA FONTAINE KUDANSHITA, TOKYO
This hotel has a 4-star rating on TripAdvisor because it has everything you need for a comfortable stay in Tokyo and you couldn't ask for a better location. The rooms are compact but modern and extremely clean and quiet and the hotel has all the amenities you need for an enjoyable stay.
After checking in to the hotel, we were very pleased to see the room was very nice and exceptionally clean and there were pyjamas in sealed plastic bags on the bed. They were more like night shirts but I thought they were very comfortable and compatible with the temperature of the room. If you use these pyjamas the cleaners will give you a fresh pair every day. There was no wardrobe but there was a rack for you to hang up your clothes and this was absolutely fine for us. The Mikimoto toiletries in the good-sized bathroom were lovely and I was very happy with the Mikimoto shampoo I used to wash my hair every second day. They provide a kettle as well as space to make a cup of tea and there was a fridge in the hallway with plenty of room to store drinks and snacks, or even a carton of milk or juice.
There was a large window in the room which provided a lot of natural light as well as a phone to make external or internal calls and an alarm. You can rent a PC to use in your room for a full day or you can use the PC in the reception free of charge. There's a laundry service that we used and everything came back very clean and nicely folded but this service was quite expensive so I'd recommend the washing machines and dryers that guests can use on site. I did notice there was no iron in the room when we arrived and I also thought the pillows were too hard but I called reception and they sent up an iron and an ironing board straight away that we could keep for the remainder of our stay. They also gave us memory foam pillows that were so nice to sleep on I've decided I'd like a memory foam pillow for Christmas!
The hotel provides a complimentary breakfast every morning and although you could help yourself to eggs, sausages or meatballs, soup, salad and bread, we only had a few small croissants and/or pastries every morning because we wanted to try different restaurants for lunch and dinner when we were in Tokyo, but these bread items were always very fresh and delicious.
The hotel only has 13 floors so it's perfect if you're afraid of being in a tall building during an earthquake (although there were no earthquakes during our entire stay in Japan). Another big bonus for this hotel is its location. It's a 5-minute walk from Jimbōchō station, an area I like because it has lots of second hand bookstores. There are also lots of restaurants and three convenience stores surrounding the hotel and three train lines that stop at Jimbōchō Station – the Subway Hanzomon Line, the Subway Mita Line and the Subway Shinjuku Line, making this hotel convenient for just about anywhere you want to go to in central Tokyo. By the way, don't forget to avoid the expensive JR Lines as much as possible and buy a 3-day subway pass for just ¥1,500 yen when you're in Tokyo to save you lots of money on train travel.
HOTEL CYPRESS KARUIZAWA
This was a fantastic hotel and we thoroughly enjoyed our stay here. The staff were extremely kind and courteous and there were always several staff members standing at the doors next to the reception waiting to greet us whenever we came back to the hotel which was really lovely.
We received a complimentary upgrade to a luxurious and spacious room that was bigger than most Tokyo apartments. The room was so big there was an entrance for you to take off your shoes and then a separate entrance to the bedroom, kitchenette, lounge areas and balcony once you were inside. We stayed in a "relaxation" room so the bathroom had a deep soaking tub, there was a foot and leg massage machine, a kitchenette with a breakfast bar, and two spacious sitting areas as well as a balcony.
This hotel is probably the best hotel in Karuizawa because of its location. Karuizawa train station and the designer outlet stores are just a 10-minute walk away. There's a convenience store on the way to the hotel when you're coming from the train station and there's also a huge Delicia supermarket around the corner from the hotel. It also only takes five minutes by taxi to get from this hotel to the Ginza Street shopping area in Kyu-Karuizawa.
RADISSON HOTEL NARITA
This is a great hotel if you're jetting off from Narita Airport and you can expect first-class customer service. We were very lucky to be upgraded at this hotel as well and we'd definitely stay here again. The Business Class room they gave us was very comfortable and quiet and the bed was absolutely perfect for a good night's sleep. We also really liked the lovely extras that came with the room. It was so nice to have an espresso machine, luxury bathrobes, a control panel for the room next to the bed, a lounger to stretch out on with a foot stool, a spacious desk, and an extra-large bathroom with plenty of room for your toiletries.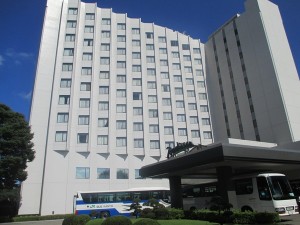 The staff all spoke excellent English, the concierge was quick to take care of our luggage and roll it on a trolley up to our room, the receptionists and concierge staff were always smiling and very happy to help and we really appreciated the free welcome drink. You could choose from a glass of wine, beer or soft drink.
The breakfast was absolutely amazing. I've stayed in a lot of hotels and I would say the breakfast at the Radisson Hotel Narita was the best hotel breakfast I've ever had. There was a huge selection that catered for Western, Japanese and Chinese guests. I had the waffles and pancakes with maple syrup and they were very light and fluffy and much nicer than the expensive Hoshino pancakes in Tokyo. I also had a slice of sourdough bread and it was so delicious you could tell it was brought in from a gourmet bakery. My husband had eggs and half a plate of bacon and he loved the bacon so much he went back for another serving to make a bacon sandwich. Overall, their breakfast was really special so if you're planning to stay at the Radisson Hotel Narita make sure the breakfast is included in your package.
If you're hungry in the evening but you don't want to eat dinner in the restaurant there are several convenience stores just a few minutes' walk away and there's a fridge in the room for you to keep your snacks cold. There's also a swimming pool at the hotel if you fancy a dip but we didn't have time for a swim. When it's time to go to Narita Airport there's a free shuttle bus which leaves on a regular basis from the hotel and we were pleased to see it was on time and very comfortable.