These days, there are thousands of Western-style restaurants and cafés as well as kebab houses, pancake parlours, burger joints, pastry shops, and all sorts of other international eateries, offering first-class and extremely tempting dishes, all over Tokyo. You'll have no trouble at all finding Western foods and meals that will delight your senses in Shibuya, Harajuku, Shinjuku, Ginza, and many of the other famous areas in Tokyo during your stay, but that's not what this blog post is all about. If you've decided to visit Japan or if you're returning for another trip, you must be interested in exploring the Japanese culture and experiencing the "real Japan". So, if you want a more authentic and enjoyable stay and if you plan to leave with some great memories, then steer clear of as much Western-style food as possible.
When I visited Japan in the nineties and when I lived there in the noughties, the only reasonably priced Western-style food that didn't taste like Japanese food to me was McDonald's, KFC, and the submarine sandwiches at the American fast food chain Subway, and I had to travel all the way to Ginza to eat those submarines. Don't get me wrong, I love love love Japanese food and I could eat it eleven out of the twelve months of the year, but if you've ever lived in Japan you'll know just how much you crave Western food after a few months of eating wa-shoku (food of Japan) every day. But no matter how much you enjoy tucking into a succulent rib-eye steak, a tall stack of pancakes, or an al dente bowl of spaghetti Bolognese, if you're planning to visit Japan you really should try and eat as much wa-shoku as possible and stay away from those fastfood outlets you've grown up with or the fancy restaurants with familiar looking Western food.
Did you know wa-shoku (food of Japan) was listed in the UNESCO Intangible Cultural Heritage of Humanity in 2013? This is because Japanese food truly reflects the Japanese culture. That doesn't mean you need to spend a lot of money eating Kaiseki ryōri (multicourse haute cuisine in Japan) every night of your stay and you probably couldn't do this anyway because this style of food is so expensive. Although Kaiseki ryōri is a beautiful representation of seasonality, simplicity, and sophistication, my list below includes foods and meals in Tokyo that are available nearly everywhere in Japan. All these foods are exactly what Japanese people like to eat on a regular basis and the kind of food Japanese people crave when they live outside of Japan. You'll also be pleased to know everything on my list shouldn't break the bank and most Westerners really like all these Japanese foods and meals.
1. Pork Katsu Curry
Until recently, Chicken Tikka Masala was voted the most popular international dish in Britain so that tells me a lot of Brits love eating curries, but how many people in the UK have tried Japanese curry? Better still, how many people have tried Japanese curry with a breaded deep-fried pork cutlet?!? Don't worry, if you've never tried it. Katsu curry is not very spicy but it's full of flavour. I recommend the Monsunakku (モンスナック) restaurant near Shinjuku-sanchōme station for pork katsu curry. It's located under the Kinokuniya bookshop. They've been in business for over forty years.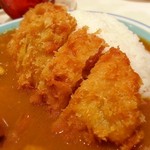 2. Yakitori
For a cheap and cheerful meal you must try yakitori. This is basically different types of grilled chicken served on skewers. If you speak Japanese you can ask for it to be made to order or if your Japanese language skills aren't very good then you can just ask for a variety. One of the best places to eat yakitori is at Memory Lane in Shinjuku ( 新宿西口思い出横丁 or Shinjuku Omoide Yokocho).
3. Unadon
Unagi is actually eel. Unadon is eel served on rice. Now, before I hear you squeal and complain about how you'd never eat eel, you need to know this is absolutely delicious. The fillets of eel are cooked in what is called a kabayaki style so it has a kind of teriyaki taste and it's served to you on a bowl of rice or in more expensive restaurants it's served in a fancy square lacquer box and called unajū.
4. Onigiri
This rice ball in a triangular or circular shape wrapped in nori seaweed is a great snack and it's available from every convenience store in Japan. Don't be put off by the fact it's sold in a convenience store. Onigiri and lots of other Japanese-style bentō lunch boxes are brought in fresh every day and many Japanese people, especially poor students, practically live on onigiri and other convenience store meals. These rice balls have all sorts of healthy fillings. Look out for the salmon or tuna with mayonnaise varieties – most Westerners love these.
5. Tempura
This dish is a big favourite with nearly all Westerners. Seafood (such as king prawns) and vegetables are coated in a light batter, deep fried, and served with a tentsuyu dipping sauce made from mirin, soy sauce, dashi and sugar. Delicious!! For a more substantial meal you could order tendon – tempura on rice in a bowl.
6. Shabu-shabu
This is going to cost you a little bit more than the other dishes but it's the perfect meal choice if you're travelling in a group or as a family. It's an easy, fun, and enjoyable way to eat a meal. All you do is place thinly sliced pieces of meat and vegetables into a hotpot boiling in front of you for a couple of minutes until that bit is cooked and tender, then you take it out with your chopsticks and dip it into either a sesame or a ponzu sauce before savouring the taste. You then repeat the process until all the meat and vegetables are cooked and eaten. Shabu-shabu literally means swish-swish in English. It's an onomatopoeia for the sound you make when you cook the meal!
7. Ramen
You must have heard of this dish! You know all those 2-minute noodles every adolescent boy craves when he's starving, well that's a little bit like this, but ramen in Japan is so much better, so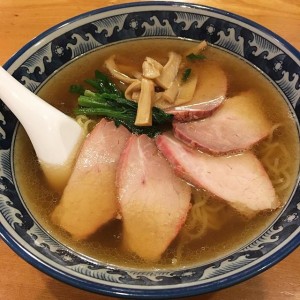 much tastier, very cheap to eat, and the perfect quick meal. Ramen in Japan is Chinese noodles cooked in a broth flavoured with shoyu, salt or miso and topped with meat and/or vegetables and condiments. I think nearly all Westerners would enjoy Chashu ramen: Noodles topped with several slices of braised pork belly and served in a broth with lots of appetising condiments (see photo on the left).
8. Sushi
Sushi is available from takeaway stands and served up on platters in restaurants all over the world but you have to watch your wallet and where you decide to eat sushi a little bit more when you eat sushi in Japan. Time Out Tokyo says there are 5,000 sushi restaurants in Tokyo but you could easily end up paying more than ¥10,000 (£80/$95) per person at high-end establishments. If a sushi restaurant looks posh from the outside and the interior looks extremely modern or very traditional and luxurious inside then walk away unless you have a bucketload of money!
One of the best places to try delicious and fresh sushi and sashimi in Tokyo at an affordable price is at Tsukiji wholesale fish market. Currently, there are plans being made to relocate this famous fish market in Tokyo so check with the concierge at your hotel for details on what time to go, where to go, and how to make a reservation if you want to go inside the wholesale market.
You can also try sushi at the very popular kaiten-zushi conveyer belt sushi restaurants scattered throughout Tokyo. These sushi eateries offer quick and affordable meals. You can easily work out your bill because you pay for each plate you take off the conveyer belt.
The prices vary depending on what's on the plate. The prices of each plate are added together at the end by the staff and the price of your drinks are added to this to give you your total bill. Hub Japan has a great blog post worth checking out titled
"10 Best Conveyor Belt Sushi in Tokyo to Enjoy Cheap Tasty Sushi if you're looking for the best kaiten-zushi in Tokyo".


…………………………………………………………………………………..
Well, I hope my list has left you salivating and thinking about what you're going to eat during your trip to Japan. Of course, there are a lot more great dishes and foods to try in Tokyo. Feel free to share your favourites.