I'm so pleased my latest book Tokyo Tales: A Collection of Japanese Short Stories with illustrations by Yoshimi Ohtani has received lots of 5-star reviews. I worked so hard to write stories that would appeal to everyone and I'm thrilled so many people love the book. To buy a copy of the paperback or eBook go directly to my Buy The Book page.
Paul Donnelley is a writer for the Daily Mail and The Sunday Times in the United Kingdom. Read his review of Tokyo Tales below:
"Until recently I had never been to Japan. I have now courtesy of Renae Lucas-Hall's Tokyo Tales. The book of fifteen short stories is written with such love, such joie de vivre, such wit and warmth that you feel that you are walking the streets of the Japanese capital and visiting the bar in Nihonbashi or attending English language classes with Sachiko.
I also know Japanese societal customs thanks to the book. Renae writes with an easy flowing style, which is both beneficial and detrimental – beneficial because the stories are easy to read, detrimental because the stories, being easy to read, slip by quickly and you find yourself a little saddened because you have come to the end.
Still, there are fifteen of them and with Renae Lucas-Hall's obvious talent, more will no doubt be on the way and I, for one, cannot wait. Arigatoo gozaimasu, Renae."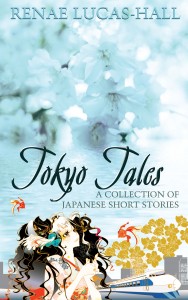 Julie Summers from Midwest Book Review has also given Tokyo Tales a 5-star review. Midwest Book Review selects about 600 books to review out of an average of 2000 titles submitted for review each month so I'm very pleased I passed their strict elimination process. You can read Julie Summer's review below:
"Impressively written and presented, "Tokyo Tales: A Collection of Japanese Short Stories" is a superbly entertaining anthology and documents author Renae Lucas-Hall as an extraordinarily gifted author who has successfully drawn upon her years of experience living in Tokyo teaching English to Japanese students. Very highly recommended for community library collections, it should be noted for personal reading lists that "Tokyo Tales: A Collection of Japanese Short Stories" is also available in a Kindle edition."
Thank you so much Paul and Julie for your wonderful reviews. I really appreciate your support.